ETROM: The Astral Essence - Demo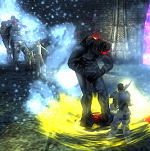 P.M. STUDIOS ha rilasciato la versione inglese della demo di ETROM - The Astral Essence (anche in versione italiana), permettendoci di provare questo italiano 3D Action-RPG datato dicembre 2005. La demo da 880MB può essere scaricata dalla homepage del gioco, da 3DGamers, oppure da FileFront.



Con questa demo avremo la possibilità di muoverci attraverso l'universo Techno-Fantasy di Etrom e avremo la possibilità di giocare un Prologo inedito e alternativo rispetto a quello del gioco finale. Avremo sin dal principio poteri e armamenti speciali che si guadagnano solo ai più alti livelli di esperienza. Impersoneremo il personaggio principale Etrom: un ex-ufficiale assaltatore della H.W.D. (Human World Defence) la cui vita è stata improvvisamente sconvolta dal ritrovamento, "casuale", di un oggetto mistico che gli è penetrato nel cuore: l'Essenza Astrale.



Consigliato agli amanti delle belle storie e delle ambientazioni ben curate; considerando anche che dal punto di vista grafico il gioco è ben curato ed è giocabile anche su Pc non molto potenti.