Dragon Age: Origins - i requisiti di sistema PC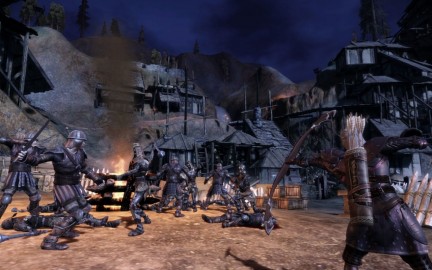 BioWare ha pubblicato i requisiti di sistema della versione PC di Dragon Age: Origins, atteso gioco di ruolo dei creatori della serie Knights of the Old Republic in arrivo su oltre che sui nostri computer anche su PlayStation 3 e Xbox 360 durante il prossimo autunno.
Per chi sperava di farla franca potrebbe esserci qualche cattiva notizia, soprattutto tra i requisiti raccomandati dove troviamo un bel 4GB per giocare su Windows Vista, ma anche i 2GB richiesti da XP tutto sommato non sono poco. Più o meno abbordabili i requisiti minimi dove spicca un Service Pack 3 richiesto per Windows XP, mentre tutto viene comunque maggiorato per i giocatori con Vista installato sul loro PC.
L'elenco completo dei requisiti dopo la pausa.
Requisiti Minimi Windows XP
SO: Windows XP with SP3
CPU: Intel Core 2 (o equivalente) 1,4Ghz / AMD X2 (o equivalente) 1,8Ghz
RAM: 1GB
Video: ATI Radeon X850 128MB / NVIDIA GeForce 6600 GT 128MB
20 GB di spazio su Hard Disk
Requisiti Minimi Windows Vista
SO: Windows Vista with SP1
CPU: Intel Core 2 (o equivalente) 1,6Ghz / AMD X2 (o equivalente) 2,2GHZ
RAM: 1,5 GB
Video: ATI Radeon X1550 256MB / NVIDIA GeForce 7600 GT 256MB
20 GB di spazio su Hard Disk
Requisiti Raccomandati:
CPU: Intel Core 2 Quad 2,4Ghz o equivalente
RAM: 4 GB (Vista) o 2 GB (XP)
Video: ATI 3850 512 MB
NVIDIA 8800GTS 512 M
via | vg247