Assassin's Creed: Brotherhood - quarto videodiario di sviluppo "Rise of the Templars"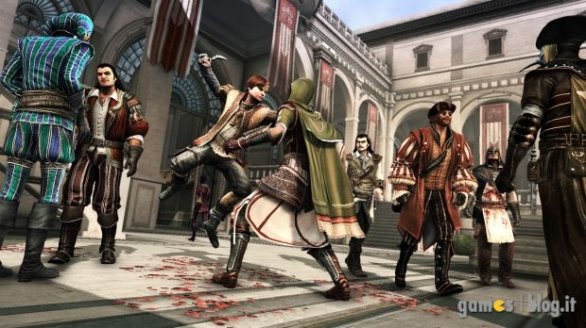 Ubisoft Montreal torna a parlarci di Assassin's Creed: Brotherhood, controversa terza iterazione della serie. Il punto è proprio questo: non si tratta del vero terzo capitolo, il che ha finora indotto alcuni a storcere il naso. Tuttavia Assassin's Creed è lì, sotto gli occhi di tutti. Non sembra mancare davvero di nulla. Il videodiario si trova dopo la consueta pausa.
Dicevamo di alcuni dubbi emersi a seguito della presentazione di questo gioco. Quasi a voler alimentare questo tenue focolare di incertezze, il filmato di oggi si focalizza, nuovamente, sull'aspetto multiplayer del gioco. Vero è che trattasi dell'unica reale innovazione di Brotherhood, ma data la natura del titolo ci diciamo molto interessati (forse anche di più) all'aspetto in singolo.
In ogni caso, dei vaghi accenni alla trama ci sono. Il resto è composto da VR Missions, vari aspetti del multiplayer ed integrazione di alcuni elementi. Per esempio, il nostro personaggio online risentirà di un certo grado di "esperienza": più ne avrà, più saranno le sue possibilità in battaglia. Una sorta di potenziamento insomma. Assassin's Creed: Brotherhood uscirà il 19 Novembre su PS3 e Xbox 360.