ID@Xbox: ecco i titoli indie presentati da Microsoft durante la Gamescom 2014
Microsoft rafforza il programma ID@Xbox e mostra ciò che la scena indie ha in serbo per gli utenti Xbox One e Xbox 360 nei prossimi mesi
Nel corso della conferenza tenuta da Microsoft durante la Gamescom 2014, i vertici della casa di Redmond hanno aperto un'importante finestra sui videogiochi sviluppati dagli ultimi team che hanno deciso di aderire al programma ID@Xbox.
La piattaforma annunciata dai boss di M$ nel corso della Gamescom dello scorso anno e legata all'autopubblicazione su piattaforme Xbox dei titoli realizzati dagli attori della scena videoludica indipendente, stando alle informazioni offerteci da Phil Spencer e compagni, permetterà l'accesso gratuito all'engine Unity Pro e vedrà l'ingresso di sviluppatori autorevoli come il Team 17 (The Escapists), Keen Software (Space Engineers), Hi-Rez (Smite) e Coffee Stain (Goat Simulator).
Guarda le immagini dei titoli indipendenti per Xbox One e Xbox 360 presentati durante la Gamescom 2014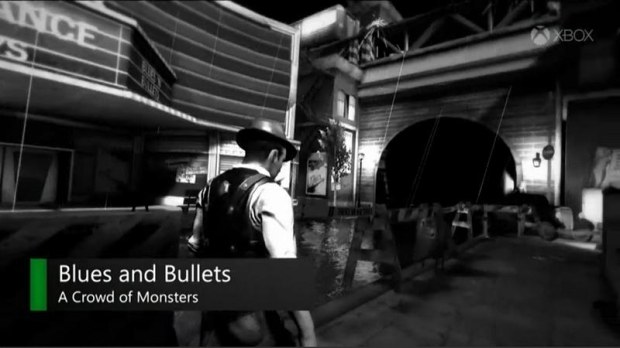 Leggi anche - ID@Xbox: 65 nuovi team entrano nel programma di sviluppo indie su Xbox One
Ecco allora la lista dei nuovi titoli indie per Xbox One e Xbox 360 propostici da Microsoft in ordine rigorosamente alfabetico per non scontentare nessuno, ai quali bisognerà aggiungere Ori and the Blind Forest, Nero, Below e tanti altri progetti partoriti dalla fervida mente degli sviluppatori indipendenti di mezzo mondo.

Blues and Bullets
Cuphead
Dungeon of the Endless
Fruit Ninja Kinect 2
Funk of Titans
Ghost of a Tale
Goat Simulator
Gunscape
Massive Chalice
Inside
Knight Squad
Lovers in a Dangerous Spacetime
#IDARB
No Time to Explain
Plague Inc: Evolved
Rivals of Aether
Smite
SlashDash
Space Engineers
Spectra
Pneuma: Breath of Life
Threes!
The Escapists
Volgarr the Viking
SpeedRunners
Superhot

I videogiochi presentatici da Redmond dal palco della Gamescom arriveranno in esclusiva temporale (tralasciando le versioni originarie per PC) su Xbox One e Xbox 360 tra la fine del 2014 e i primi mesi del 2015.
Approfondisci - ID@Xbox: Microsoft pubblica la lista degli sviluppatori coinvolti nel programma per gli indie