The Witcher 3: Wild Hunt - il nuovo video della versione Xbox One mostra l'upscaling dinamico
CD Projekt conferma la presenza di una funzione di upscaling dinamico da 900p a 1080p per l'edizione Xbox One dell'ultima epopea ruolistica di Geralt di Rivia
I ragazzi di CD Projekt RED festeggiano il raggiungimento del milione di copie in preordine di The Witcher 3: Wild Hunt mostrando un nuovo filmato di gioco su Xbox One per annunciare a sorpresa che l'edizione del loro attesissimo GDR a mondo aperto da destinare all'utenza della console Microsoft non avrà una risoluzione bloccata sui 900p ma, al contrario, godrà di una funzione di scaling dinamico che permetterà al titolo di raggiungere i fatidici 1080p e di rimanervi stabilmente nella maggior parte delle aree della mappa, salvo poi passare a 900p nei frangenti più concitati dell'avventura.
La scelta operata dai vertici della casa di sviluppo polacca allinea così la versione Xbox One di The Witcher 3 a quella rivolta agli appassionati di giochi di ruolo "all'occidentale" su PlayStation 4, dove il titolo verrà proposto alla risoluzione di 1080p con frequenza di aggiornamento delle immagini a schermo bloccata a 30 frame al secondo.
The Witcher 3: Wild Hunt - galleria immagini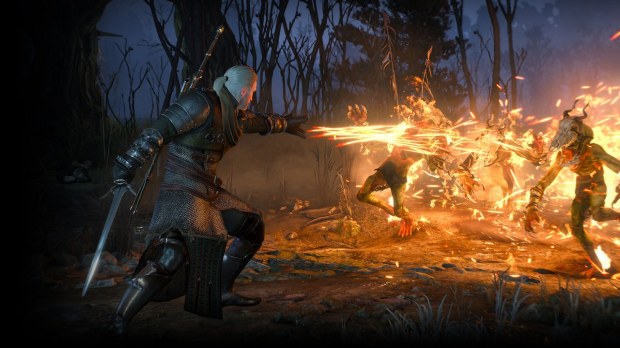 A questo punto non ci rimane che ricordarvi che The Witcher 3: Wild Hunt arriverà il 19 maggio su PC, PlayStation 4 e Xbox One. Le settimane immediatamente successive al lancio dell'ultima epopea di Geralt di Rivia vedranno poi l'uscita di 16 DLC gratuiti a cui faranno seguito, tra la fine di quest'anno e l'inizio del prossimo, due espansioni maggiori legate all'acquisto del Pass Stagionale che promettono di estendere ulteriormente il perimetro della campagna principale e dei frangenti sandbox con decine di ore di contenuti inediti.
Approfondisci - The Witcher 3: Wild Hunt - svelati i bonus preordine - nuove immagini sui miglioramenti della grafica