Call of Duty: Black Ops a quota 23 milioni di copie e 18 milioni di DLC in nove mesi per le sole versioni PS3/X360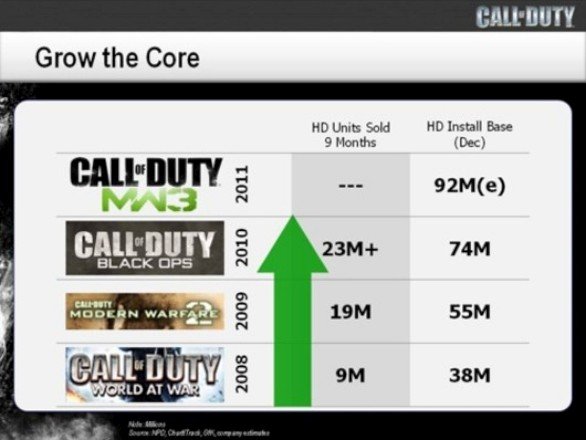 Secondo un'analisi diffusa nelle scorse ore dalla stessa Activision, le sole versioni PS3 e Xbox 360 di Call of Duty: Black Ops hanno fatto registrare a nove mesi dal lancio ben 23 milioni di copie vendute e 18 milioni di pacchetti aggiuntivi di mappe acquistati attraverso PSN o Xbox Live.
Anche solo considerando i pacchetti DLC aggiuntivi, parliamo di 15$ nel caso degli Stati Uniti e 15€ da noi in Europa, per un totale di incassi che supera sicuramente i 200 milioni di €. Se pensiamo che le prenotazioni per il nuovo Modern Warfare 3 hanno già superato quelle record di Black Ops, possiamo già immaginare che il publisher impiegherà davvero molto tempo a contare tutti i soldi...
Modern Warfare 3 è previsto per l'8 novembre 2011 su PC, Xbox 360, PlayStation 3, Wii e 3DS. Una versione PS Vita arriverà nei mesi successivi.
via | Joystiq