Elder Scrolls V: Skyrim - in arrivo un esercito di Dragonborn di bronzo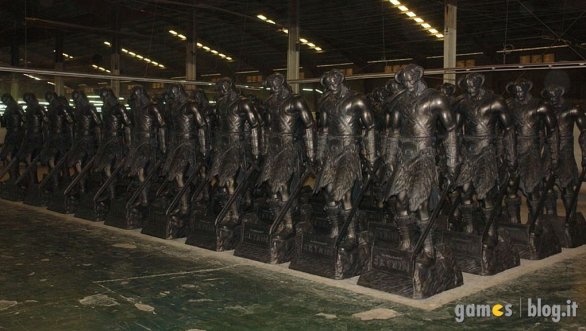 Esattamente come per il Paladino con l'armatura atomica della Confraternita d'Acciaio di Fallout 3, i boss di Bethesda decidono di pubblicizzare il prossimo, attesissimo capitolo della saga di The Elder Scrolls realizzando decine di statue simil bronzee a grandezza naturale del Dragonborn in versione "ufficiale" (quella mostrata in tutti i video datici in pasto fino ad oggi, per intenderci). Al cospetto di questi bestioni che, purtroppo, saranno impiegati solo per scopo promozionale e non potranno essere acquistati, il drago Alduin della Collector's Edition di Skyrim sembra una piccola lucertola aggrappata a uno scoglio!
Così come ci spiegano gli stessi ragazzi di Bethesda attraverso le pagine del loro sito ufficiale, l'esercito di statue ritraenti la figura possente di Dovahkiin inonderà i centri commerciali e le sedi principali delle maggiori catene di distribuzione di videogiochi del Nord America (e si spera anche dell'Europa) a pochi giorni dall'uscita di The Elder Scrolls V: Skyrim che, lo ricordiamo, è prevista in tutto il mondo per l'11 novembre su PC, PS3 e X360.
The Elder Scrolls V: Skyrim - le statue del Dragonborn in immagini