Army of Two: The Devil's Cartel - ecco le prime immagini di gioco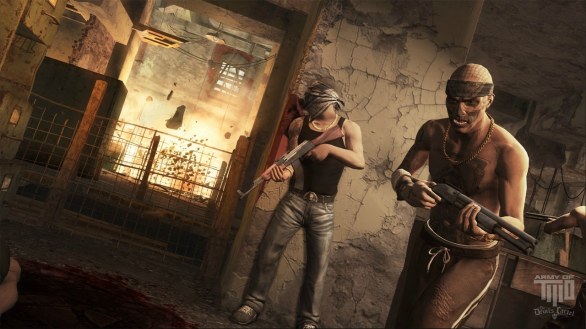 Senza prendersi nemmeno il tempo per disfare le valigie dopo essere tornati dalla Gamescom di Colonia, gli sviluppatori californiani di Visceral Games si rimettono immediatamente al lavoro per regalarci le prime immagini di gioco di The Devil's Cartel, il prossimo atto della saga sparatutto-cooperativa di Army of Two.
Rispetto agli episodi precedenti della serie, il nuovo capitolo avrà toni più cupi e maturi per aderire meglio al contesto narrativo scelto dagli autori di Visceral Games per dare forma a una campagna incentrata sulla guerra scatenata dagli spietati cartelli della droga messicani: per quanto riguarda gli elementi prettamente "ludici" del progetto, tra i maggiori elementi d'innovazione introdotti dagli sviluppatori di Redwood City citiamo la presenza di un profondo modulo di personalizzazione del proprio personaggio (in rete così come nel singleplayer cooperativo), di un equipaggiamento pesante con cui far esplodere ogni persona e oggetto a schermo meritevole di "punizione" e, infine, di nuove "azioni collaborative" da compiere con i soldati mascherati Alpha e Bravo per uscire dalle situazioni più critiche.
Tutto questo e molto altro (o almeno si spera) ci attende per il mese di marzo del 2013, ossia per quando Army of Two: The Devil's Cartel sarà reso disponibile tanto su PlayStation 3 quanto su Xbox 360.
Army of Two: The Devil's Cartel - galleria immagini