Age of Empires 3 Demo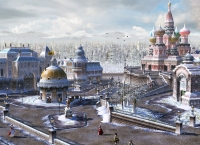 E' uscito finalmente il demo di Age of Empires 3!
Gli screenshot sembrano promettere bene. Non ho ancora avuto il tempo di scaricarlo e provarlo, ma nel frattempo ve lo segnalo.

Il gioco non credo che abbia bisogno di presentazioni.

Spero nei prossimi di riuscire a scriverne. Molto dipenderà dalla volontà del mio malandato pc - desideroso di formattazione - di caricare o meno il gioco. Se lui sarà daccordo, credo vedrete le mie impressioni sulla demo di AoE3 a breve su Gamesblog. In caso contrario, linkeremo impressioni altrui.