Sito ufficiale e dettagli per Demigod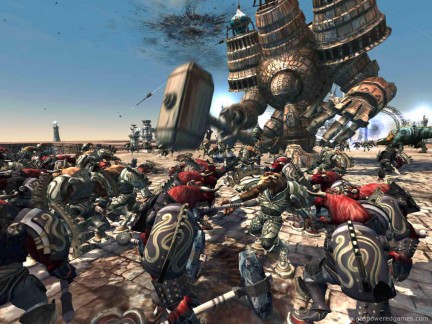 In seguito all'annuncio di Demigod, Gas Powered Games ne ha aperto il sito ufficiale, all'interno del quale è possibile visualizzare nuovi screenshot del gioco ed avere accesso a diverse informazioni sul nuovo titolo in sviluppo, prima tra tutte la presunta data d'uscita, fissata per il momento per fine 2008.
E' inoltre interessante la piccola serie di domande e risposte con John Comes, Lead Designer di Demigod: al suo interno, Comes conferma sostanzialmente l'influenza proveniente sia da WarCraft III, sia dal suo mod Defense of the Ancients, unita però ad elementi multigiocatore tipici dei titoli in prima persona come Battlefield e Team Fortress, mentre il motore grafico sarà quello di Supreme Commander, come già immaginato da alcuni dando un'occhiata alle prime immagini del gioco circolate.
Interpellato sul livello di originalità che sarà in grado di offrire il nuovo titolo, Comes risponde di non aver ancora ben definito insieme al team quanto attingere dai vari generi da cui Demigod trae ispirazione, promettendo che comunque verranno bilanciati i vari elementi per accontentare i fan degli RPG così come quelli degli RTS, in un modello di gioco possibilmente innovativo.