Metal Gear Solid 4: PSW ribadisce che ci sarà presto un demo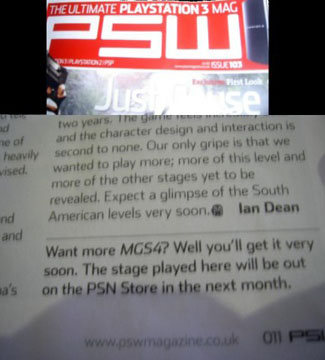 Lo staff della rivista inglese Playstation World Magazine, che solo ieri aveva diffuso la notizia di un demo di Metal Gear Solid 4: Guns of the Patriots nel mese di fabbraio (o addirittura a gennaio), ribadisce il concetto attraverso il sito amatoriale Metalgearsolid4.net, assicurando agli utenti la veridicità di questa indiscrezione.
Contattati dallo staff di Metalgearsolid4.net, i redattori di PSW hanno dichiarato testualmente: «Mentre stavamo scrivendo l'articolo (preview di MSG4, NdR) un dipendente Konami ci ha detto che il demo che avevamo giocato in ufficio sarebbe arrivato su PSN. E' completo, l'abbiamo giocato, quindi qualcosa dovrebbe apparire in questo mese. Potrebbe dipendere tutto dalla data di uscita del gioco intero: se MGS4 uscirà a maggio, allora il demo potrebbe arrivare un po' più tardi, quindi febbraio».
PSW è la rivista gemella del famosissimo Computer And Videogames, e molto difficilmente insisterebbe così su una notizia poco attendibile. In definitiva, possiamo ritenere la cosa quasi certa, seppur manchi ancora l'ufficialità di Konami.