Classifiche di vendita italiane console e PC dal 17 al 23 gennaio 2011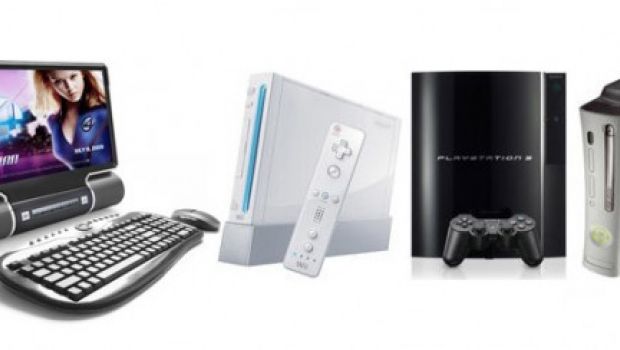 Ecco di nuovo il consueto appuntamento con le classifiche di vendita italiane settimanali condotte da GfK per conto di AESVI. Come la scorsa settimana, dominano Wii FIT Plus su console e la carta prepagata di World of Warcraft su PC. Gran Turismo 5 e Call of Duty: Black Ops, i cannibali degli scorsi mesi, sono

Ecco di nuovo il consueto appuntamento con le classifiche di vendita italiane settimanali condotte da GfK per conto di AESVI. Come la scorsa settimana, dominano Wii FIT Plus su console e la carta prepagata di World of Warcraft su PC. Gran Turismo 5 e Call of Duty: Black Ops, i cannibali degli scorsi mesi, sono secondo e terzo nelle rispettive classifiche.
Top 10 Console
1 WII FIT PLUS + BALANCE BOARD WII NINTENDO
2 GRAN TURISMO 5 PS3 SONY
3 CALL OF DUTY BLACK OPS PS3 ACTIVISION BLIZZARD
4 KINECT SPORTS X-BOX 360 MICROSOFT
5 MASS EFFECT 2 PS3 ELECTRONIC ARTS
6 DONKEY KONG COUNTRY RETURNS WII NINTENDO
7 PRO EVOLUTION SOCCER 2011 PS3 KONAMI
8 NEW SUPER MARIO BROS WII NINTENDO
9 JUST DANCE 2 WII UBISOFT
10 KINECT ADVENTURES + KINECT X-BOX 360 MICROSOFT
Top 10 PC
1 WORLD OF WARCRAFT PRE PAID CARD 2 MESI PC ACTIVISION BLIZZARD
2 FOOTBALL MANAGER 2011 PC SEGA
3 CALL OF DUTY BLACK OPS PC ACTIVISION BLIZZARD
4 THE SIMS 3 PC ELECTRONIC ARTS
5 WORLD OF WARCRAFT CATACLYSM PC ACTIVISION BLIZZARD
6 WORLD OF WARCRAFT WRATH OF THE LICH KING PC ACTIVISION BLIZZARD
7 PRO EVOLUTION SOCCER 2011 PC KONAMI
8 ASSASSIN'S CREED II PC UBISOFT
9 THE SIMS 3 LATE NIGHT PC ELECTRONIC ARTS
10 FIFA 11 PC ELECTRONIC ARTS
Continua dopo la pausa con le Top 10 per piattaforma.
Top 10 DS
1 ART ACADEMY NINTENDO
2 NEW SUPER MARIO BROS NINTENDO
3 MARIO KART NINTENDO
4 KINGDOM HEARTS RECODED SQUARE ENIX
5 POKEMON ORO HEARTGOLD + POKEWALKER NINTENDO
6 PROFESSOR LAYTON E IL FUTURO PERDUTO NINTENDO
7 POKEMON ARGENTO SOULSILVER + POKEWALKER NINTENDO
8 PROFESSOR LAYTON E LO SCRIGNO DI PANDORA NINTENDO
9 MARIO & SONIC AI GIOCHI OLIMPIADI INVERNALI SEGA
10 POKEMON VERSIONE PLATINO NINTENDO
Top 10 PS2
1 PRO EVOLUTION SOCCER 2011 KONAMI
2 FIFA 11 ELECTRONIC ARTS
3 BLACK ELECTRONIC ARTS
4 IL PADRINO ELECTRONIC ARTS
5 GRAN TURISMO 4 PLATINUM SONY
6 BEN 10 ULTIMATE ALIEN COSMIC DESTRUCTION D3
7 NEED FOR SPEED CARBON ELECTRONIC ARTS
8 THE SIMS 2 ELECTRONIC ARTS
9 NEED FOR SPEED MOST WANTED ELECTRONIC ARTS
10 MEDAL OF HONOR VANGUARD ELECTRONIC ARTS
Top 10 PS3
1 GRAN TURISMO 5 SONY
2 CALL OF DUTY BLACK OPS ACTIVISION BLIZZARD
3 MASS EFFECT 2 ELECTRONIC ARTS
4 PRO EVOLUTION SOCCER 2011 KONAMI
5 FIFA 11 ELECTRONIC ARTS
6 ASSASSIN'S CREED BROTHERHOOD UBISOFT
7 SPORTS CHAMPIONS SONY
8 GAMES PROMO PER PS3 ELECTRONIC ARTS
9 ASSASSIN'S CREED II UBISOFT
10 ASSASSIN'S CREED UBISOFT
Top 10 PSP
1 PRO EVOLUTION SOCCER 2011 KONAMI
2 FIFA 11 ELECTRONIC ARTS
3 INVIZIMALS LE CREATURE OMBRA + CAM SONY
4 NEED FOR SPEED MOST WANTED PLATINUM ELECTRONIC ARTS
5 BEN 10 ULTIMATE ALIEN COSMIC DESTRUCTION D3
6 GOD OF WAR GHOST OF SPARTA SONY
7 NEED FOR SPEED CARBON OWN THE CITY PLATINUM ELECTRONIC ARTS
8 PURSUIT FORCE ESSENTIALS SONY
9 ASSASSIN'S CREED II BLOODLINES UBISOFT
10 TRON EVOLUTION DISNEY
Top 10 WII
1 WII FIT PLUS + BALANCE BOARD NINTENDO
2 DONKEY KONG COUNTRY RETURNS NINTENDO
3 NEW SUPER MARIO BROS NINTENDO
4 JUST DANCE 2 UBISOFT
5 SUPER MARIO GALAXY 2 NINTENDO
6 EA SPORTS ACTIVE PERSONAL TRAINER ELECTRONIC ARTS
7 WII PARTY NINTENDO
8 MICHAEL JACKSON THE EXPERIENCE UBISOFT
9 FIFA 11 ELECTRONIC ARTS
10 MEDIEVAL GAMES BETHESDA SOFTWORKS
Top 10 X-BOX 360
1 KINECT SPORTS MICROSOFT
2 KINECT ADVENTURES + KINECT MICROSOFT
3 FIFA 11 ELECTRONIC ARTS
4 CALL OF DUTY BLACK OPS ACTIVISION BLIZZARD
5 ASSASSIN'S CREED BROTHERHOOD UBISOFT
6 PRO EVOLUTION SOCCER 2011 KONAMI
7 YOUR SHAPE FITNESS EVOLVED KINECT UBISOFT
8 KINECTINIMALS MICROSOFT
9 DANCE CENTRAL KINECT MICROSOFT
10 NEED FOR SPEED HOT PURSUIT LIMITED EDITION ELECTRONIC ARTS