Classifiche di vendita italiane console e PC dal 20 al 26 dicembre 2010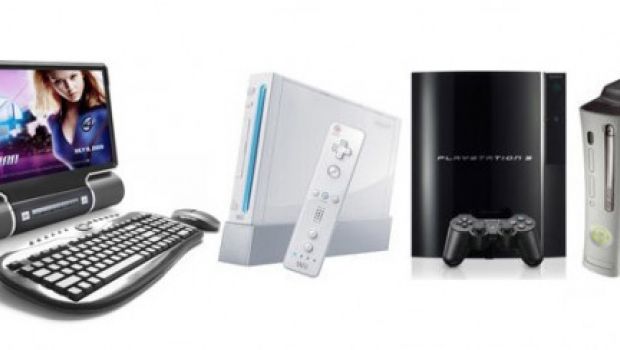 Rieccoci al consueto appuntamento con le classifiche di vendita italiane settimanali condotte da GfK per conto di AESVI. Gran Turismo 5 si riprende la vetta della classifica console, abbandonata solo la settimana scorsa. Top 10 Console 1 GRAN TURISMO 5 PS3 SONY 2 WII PARTY WII NINTENDO 3 WII FIT PLUS + BALANCE BOARD WII

Rieccoci al consueto appuntamento con le classifiche di vendita italiane settimanali condotte da GfK per conto di AESVI. Gran Turismo 5 si riprende la vetta della classifica console, abbandonata solo la settimana scorsa.
Top 10 Console
1 GRAN TURISMO 5 PS3 SONY
2 WII PARTY WII NINTENDO
3 WII FIT PLUS + BALANCE BOARD WII NINTENDO
4 KINECT ADVENTURES + KINECT X-BOX 360 MICROSOFT
5 DONKEY KONG COUNTRY RETURNS WII NINTENDO
6 CALL OF DUTY BLACK OPS PS3 ACTIVISION BLIZZARD
7 ASSASSIN'S CREED BROTHERHOOD PS3 UBISOFT
8 FIFA 11 PS3 ELECTRONIC ARTS
9 PRO EVOLUTION SOCCER 2011 PS2 KONAMI
10 PRO EVOLUTION SOCCER 2011 PS3 KONAMI
Top 10 PC
1 CALL OF DUTY BLACK OPS PC ACTIVISION BLIZZARD
2 THE SIMS 3 PC ELECTRONIC ARTS
3 FOOTBALL MANAGER 2011 PC SEGA
4 WORLD OF WARCRAFT CATACLYSM PC ACTIVISION BLIZZARD
5 PRO EVOLUTION SOCCER 2011 PC KONAMI
6 FIFA 11 PC ELECTRONIC ARTS
7 WORLD OF WARCRAFT PRE PAID CARD 2 MESI PC ACTIVISION BLIZZARD
8 THE SIMS 3 LATE NIGHT PC ELECTRONIC ARTS
9 ASSASSIN'S CREED II PC UBISOFT
10 WORLD OF WARCRAFT WRATH OF THE LICH KING PC ACTIVISION BLIZZARD
Continua dopo la pausa con le Top 10 per piattaforma.
Top 10 DS
1 PROFESSOR LAYTON E IL FUTURO PERDUTO NINTENDO
2 NEW SUPER MARIO BROS NINTENDO
3 ART ACADEMY NINTENDO
4 POKEMON ARGENTO SOULSILVER + POKEWALKER NINTENDO
5 POKEMON RANGER TRACCE DI LUCE NINTENDO
6 MARIO KART NINTENDO
7 POKEMON ORO HEARTGOLD + POKEWALKER NINTENDO
8 COOKING MAMA WORLD HOBBIES & FUN 505 GAMES
9 PROFESSOR LAYTON E LO SCRIGNO DI PANDORA NINTENDO
10 TRAINING FOR YOUR EYES NINTENDO
Top 10 PS2
1 PRO EVOLUTION SOCCER 2011 KONAMI
2 FIFA 11 ELECTRONIC ARTS
3 NEED FOR SPEED CARBON ELECTRONIC ARTS
4 WWE SMACKDOWN VS RAW 2011 THQ
5 NEED FOR SPEED MOST WANTED ELECTRONIC ARTS
6 BLACK ELECTRONIC ARTS
7 IL PADRINO ELECTRONIC ARTS
8 GRAND THEFT AUTO SAN ANDREAS PLATINUM ROCKSTAR GAMES
9 THE SIMS 2 ELECTRONIC ARTS
10 FIFA STREET 2 ELECTRONIC ARTS
Top 10 PS3
1 GRAN TURISMO 5 SONY
2 CALL OF DUTY BLACK OPS ACTIVISION BLIZZARD
3 ASSASSIN'S CREED BROTHERHOOD UBISOFT
4 FIFA 11 ELECTRONIC ARTS
5 PRO EVOLUTION SOCCER 2011 KONAMI
6 SPORTS CHAMPIONS SONY
7 NEED FOR SPEED HOT PURSUIT LIMITED EDITION ELECTRONIC ARTS
8 ASSASSIN'S CREED UBISOFT
9 GAMES PROMO PER PS3 ELECTRONIC ARTS
10 ASSASSIN'S CREED II UBISOFT
Top 10 PSP
1 PRO EVOLUTION SOCCER 2011 KONAMI
2 FIFA 11 ELECTRONIC ARTS
3 INVIZIMALS LE CREATURE OMBRA + CAM SONY
4 IL MONDO DI PATTY SONY
5 GOD OF WAR GHOST OF SPARTA SONY
6 EYEPET + CAM SONY
7 NEED FOR SPEED MOST WANTED PLATINUM ELECTRONIC ARTS
8 BAKUGAN 2 ACTIVISION BLIZZARD
9 INVIZIMALS LE CREATURE OMBRA SONY
10 ASSASSIN'S CREED II BLOODLINES UBISOFT
Top 10 WII
1 WII PARTY NINTENDO
2 WII FIT PLUS + BALANCE BOARD NINTENDO
3 DONKEY KONG COUNTRY RETURNS NINTENDO
4 NEW SUPER MARIO BROS NINTENDO
5 JUST DANCE 2 UBISOFT
6 MARIO KART + WII WHEEL NINTENDO
7 EA SPORTS ACTIVE PERSONAL TRAINER ELECTRONIC ARTS
8 SUPER MARIO GALAXY 2 NINTENDO
9 MICHAEL JACKSON THE EXPERIENCE UBISOFT
10 FIFA 11 ELECTRONIC ARTS
Top 10 X-BOX 360
1 KINECT ADVENTURES + KINECT MICROSOFT
2 FIFA 11 ELECTRONIC ARTS
3 CALL OF DUTY BLACK OPS ACTIVISION BLIZZARD
4 KINECT SPORTS MICROSOFT
5 ASSASSIN'S CREED BROTHERHOOD UBISOFT
6 ASSASSIN'S CREED II UBISOFT
7 PRO EVOLUTION SOCCER 2011 KONAMI
8 NEED FOR SPEED HOT PURSUIT LIMITED EDITION ELECTRONIC ARTS
9 SPIDER-MAN 3 ACTIVISION BLIZZARD
10 ASSASSIN'S CREED UBISOFT