Rock Band 2: Harmonix mette a disposizione 20 canzoni gratuite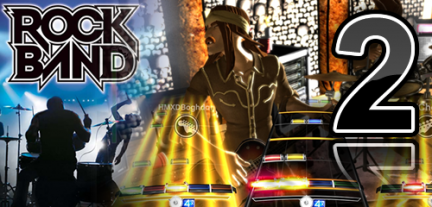 Per scaldare ulteriormente la battaglia tra i giochi musicali, Harmonix mette a disposizione ben 20 canzoni da scaricare gratuitamente e da utilizzare per il suo Rock Band 2 a partire dal 4 novembre.
Ovviamente per tutti noi europei bisognerà aspettare che Rock Band 2 sia commercializzato prima della fine di quest'era geologica, anche se EA continua a ripetere che il gioco sarà disponibile per il 21 novembre in esclusiva temporanea Xbox 360: visti i precedenti, lo scetticismo è d'obbligo.
Per chi fosse interessato, o semplicemente per tutti coloro che hanno importato Rock Band 2 dagli States, riportiamo la pagina web in cui è possibile compilare il form inserendo il numero di codice sul retro della confezione. Per tutti gli altri, quale miglior modo per ingannare l'attesa è quello di osservare nel dettaglio le 20 canzoni gratuite? Dopo la pausa, la lista completa.
* "Sons and Daughters" The 88;
* "No Regrets" Authority Zero;
* "Prequel To The Sequel" Between the Buried and Me;
* "Bounce" The Cab;
* "Get IT On" The Chevelles;
* "Give IT To Me" The Cocktail Slippers;
* "Database Corrupted" Dealership;
* "I Wanna Be Your Man" Endeverafter;
* "Ashes To Fire" The Ghost Hounds;
* "Young" Hollywood Undead;
* "The Feeling" Kutless;
* "If I Ain't Got You" The Len Price 3;
* "I'm Gone, I'm Going" Lesley Roy;
* "Burn You Down" Opiate for the Masses;
* "Magnetic Ba" Semi-Precious Weapons;
* "Like a Fool" Shaimus;
* "Crazy Tuesday" Thenewno2;
* "The Time Is Wrong" Tickle Me Pink;
* "Desperate Times, Desperate Measures" Underoath;
* "I.V." X Japan.