Classifiche di vendita italiane console e PC dal 25 al 31 ottobre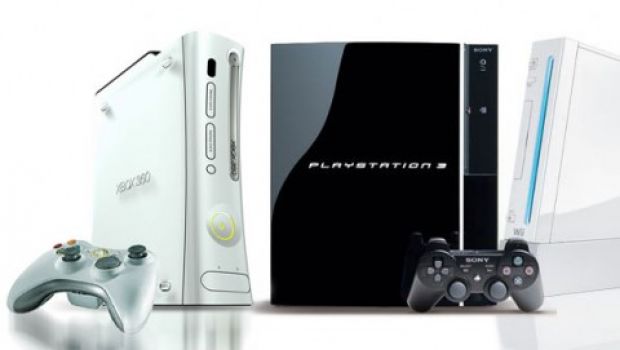 Consueto appuntamento con le classifiche di vendita italiane settimanali condotte da GfK per conto di AESVI. Mentre Pro Evolution Soccer 2011 tiene ancora botta, il rivale FIFA 11 perde un po' terreno per lasciare spazio a Professor Layton e i The Sims. Da notare che al numero uno della classifica console troviamo la versione PlayStation

Consueto appuntamento con le classifiche di vendita italiane settimanali condotte da GfK per conto di AESVI. Mentre Pro Evolution Soccer 2011 tiene ancora botta, il rivale FIFA 11 perde un po' terreno per lasciare spazio a Professor Layton e i The Sims. Da notare che al numero uno della classifica console troviamo la versione PlayStation 2 (DUE) di PES 2011.
Top 10 Console
1 PRO EVOLUTION SOCCER 2011 PS2 KONAMI
2 PRO EVOLUTION SOCCER 2011 PS3 KONAMI
3 PROFESSOR LAYTON E IL FUTURO PERDUTO DS NINTENDO
4 FIFA 11 PS3 ELECTRONIC ARTS
5 WII PARTY + WII REMOTE WII NINTENDO
6 FABLE 3 X-BOX 360 MICROSOFT
7 FIFA 11 PS2 ELECTRONIC ARTS
8 FABLE 3 LIMITED EDITION X-BOX 360 MICROSOFT
9 PRO EVOLUTION SOCCER 2011 PSP KONAMI
10 FALLOUT NEW VEGAS PS3 BETHESDA SOFTWORKS
Top 10 PC
1 THE SIMS 3 LATE NIGHT PC ELECTRONIC ARTS
2 PRO EVOLUTION SOCCER 2011 PC KONAMI
3 WORLD OF WARCRAFT PRE PAID CARD 2 MESI PC ACTIVISION BLIZZARD
4 FALLOUT NEW VEGAS PC BETHESDA SOFTWORKS
5 FIFA 11 PC ELECTRONIC ARTS
6 KANE & LYNCH DEAD MEN PC EIDOS
7 THE SIMS 3 PC ELECTRONIC ARTS
8 MEDAL OF HONOR LIMITED EDITION PC ELECTRONIC ARTS
9 CIVILIZATION 5 PC 2K GAMES
10 F1 2010 PC CODEMASTERS
Continua dopo la pausa con le classicihe individuali per piattaforma.
Top 10 DS
1 PROFESSOR LAYTON E IL FUTURO PERDUTO NINTENDO
2 ART ACADEMY NINTENDO
3 NEW SUPER MARIO BROS NINTENDO
4 POKEMON ORO HEARTGOLD + POKEWALKER NINTENDO
5 POKEMON ARGENTO SOULSILVER + POKEWALKER NINTENDO
6 GORMITI: IL RITORNO DEI SIGNORI DELLA NATURA (+ FIGURINE) KONAMI
7 FIFA 11 ELECTRONIC ARTS
8 MARIO KART NINTENDO
9 POKEMON VERSIONE PLATINO NINTENDO
10 THE SIMS 3 ELECTRONIC ARTS
Top 10 PS2
1 PRO EVOLUTION SOCCER 2011 KONAMI
2 FIFA 11 ELECTRONIC ARTS
3 WWE SMACKDOWN VS RAW 2011 THQ
4 GRAND THEFT AUTO SAN ANDREAS PLATINUM ROCKSTAR GAMES
5 BLACK ELECTRONIC ARTS
6 NEED FOR SPEED MOST WANTED ELECTRONIC ARTS
7 IL PADRINO ELECTRONIC ARTS
8 NEED FOR SPEED UNDERCOVER ELECTRONIC ARTS
9 MEDAL OF HONOR VANGUARD ELECTRONIC ARTS
10 NEED FOR SPEED CARBON ELECTRONIC ARTS
Top 10 PS3
1 PRO EVOLUTION SOCCER 2011 KONAMI
2 FIFA 11 ELECTRONIC ARTS
3 FALLOUT NEW VEGAS BETHESDA SOFTWORKS
4 MEDAL OF HONOR LIMITED EDITION ELECTRONIC ARTS
5 STAR WARS IL POTERE DELLA FORZA 2 LUCASARTS
6 SPORTS CHAMPIONS SONY
7 WWE SMACKDOWN VS RAW 2011 THQ
8 F1 2010 CODEMASTERS
9 THE SIMS 3 ELECTRONIC ARTS
10 NARUTO SHIPPUDEN ULTIMATE NINJA STORM 2 NAMCO
Top 10 PSP
1 PRO EVOLUTION SOCCER 2011 KONAMI
2 FIFA 11 ELECTRONIC ARTS
3 KINGDOM HEARTS BIRTH BY SLEEP SQUARE ENIX
4 MEDAL OF HONOR HEROES 2 ELECTRONIC ARTS
5 NEED FOR SPEED MOST WANTED PLATINUM ELECTRONIC ARTS
6 WWE SMACKDOWN VS RAW 2011 THQ
7 DRAGONBALL Z TENKAICHI TAG TEAM SPIKE
8 PURSUIT FORCE ESSENTIALS SONY
9 NEED FOR SPEED UNDERCOVER ELECTRONIC ARTS
10 AVATAR IL GIOCO UBISOFT
Top 10 WII
1 WII PARTY + WII REMOTE NINTENDO
2 PRO EVOLUTION SOCCER 2011 KONAMI
3 WII FIT PLUS + BALANCE BOARD NINTENDO
4 NEW SUPER MARIO BROS NINTENDO
5 MARIO KART + WII WHEEL NINTENDO
6 JUST DANCE 2 UBISOFT
7 SUPER MARIO GALAXY 2 NINTENDO
8 FIFA 11 ELECTRONIC ARTS
9 EA SPORTS ACTIVE PERSONAL TRAINER ELECTRONIC ARTS
10 WII SPORTS RESORT + WII MOTION PLUS NINTENDO
Top 10 XBOX 360
1 FABLE 3 MICROSOFT
2 FABLE 3 LIMITED EDITION MICROSOFT
3 FIFA 11 ELECTRONIC ARTS
4 PRO EVOLUTION SOCCER 2011 KONAMI
5 FALLOUT NEW VEGAS BETHESDA SOFTWORKS
6 MEDAL OF HONOR LIMITED EDITION ELECTRONIC ARTS
7 STAR WARS IL POTERE DELLA FORZA 2 LUCASARTS
8 ASSASSIN'S CREED UBISOFT
9 F1 2010 CODEMASTERS
10 WWE SMACKDOWN VS RAW 2011 THQ