Da Edge, la classifica dei migliori 100 videogiochi di tutti i tempi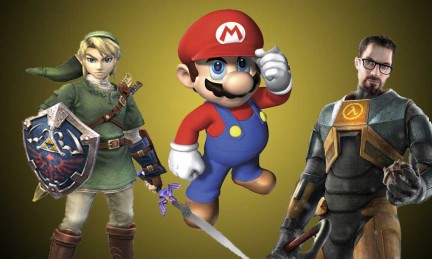 Quasi a volersi scusare a nome dell'intero settore per la scandalosa classifica stilata dai curatori del Guinnes dei Primati e riguardante i migliori 50 videogiochi per console di sempre, la prestigiosa (ed altrettanto criticata) rivista Edge ha proposto una classifica risolutiva per fare luce sui 100 videogiochi più belli della storia.
Motivando esaurientemente ogni scelta fatta per stilare questa sorta di "Bibbia del Videogiocatore", Edge posiziona Half Life 2 al terzo posto per la spinta propulsiva data alla qualità degli sparatutto in prima persona, Super Mario 64 al secondo posto per aver rivoluzionato l'intero settore dei giochi in 3D, e The Legend of Zelda: Ocarina of Time al primo posto per essere semplicemente "la sintesi perfetta" di ciò che gli utenti cercano in un'esperienza videoludica.
Sperando che Edge con questa classifica riesca a farvi passare il mal di pancia dovuto ai tristi figuri che hanno curato l'edizione 2009 del Guinnes dei Primati, vi lasciamo al link di Edge Online su cui potrete trovare la lista completa dei 100 videogiochi, a loro dire, più importanti della storia videoludica. Dopo la pausa, invece, le prime venti posizioni per chi non ha voglia di spulciare tra le pagine di Edge Online e, naturalmente, i vostri commenti.
via | Edge Online
EDGE - The 100 Best Games To Play Today
1 - The Legend of Zelda: Ocarina of Time
2 - Super Mario 64
3 - Half Life 2
4 - Resident Evil 4
5 - The Legend Of Zelda:‭ ‬A Link To The Past
6 - Super Mario World
7 - Tetris
8 - Super Mario Galaxy
9 - Halo 3
10 - Yoshi's Island
11 - LittleBigPlanet
12 - Grand Theft Auto IV
13 - Left‭ ‬4‭ ‬Dead
14 - Street Fighter IV
15 - Rock Band‭ ‬2
16 - Super Metroid
17 - World Of WarCraft
18 - Call Of Duty‭ ‬4‭ ‬Modern Warfare
19 - Civilization IV
20 - Super Mario Bros‭ ‬3