In arrivo la seconda trilogia di Professor Layton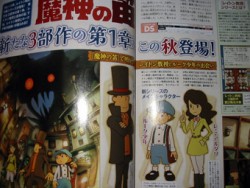 Level 5 ha mostrato attraverso le pagine di Famitsu il primo titolo della nuova trilogia legata alla famosa serie Professor Layton.
Professor Layton and the Devil's Flute sarà ambientato cronologicamente 3 anni prima degli avvenimenti di Professor Layton e il Paese dei Misteri e rivelerà il primo incontro tra il professore e l'apprendista Luke. I due eroi dovranno svelare il mistero che si cela dietro la leggenda di un enorme gigante che distrugge città al suono di un flauto.
Inoltre Professor Layton and the Devil's Flute presenterà un nuovo personaggio femminile, Remi Altava, e la trama del gioco farà da introduzone all'anime Professor Layton and the Immortal Songstress previsto per il 2010.
La data di uscita in giappone è prevista per questo autunno ovviamente solo su Nintendo DS.
via | Kotaku e Videogaming247