King of Fighters XII: immagini rivelano il nuovo anti-aliasing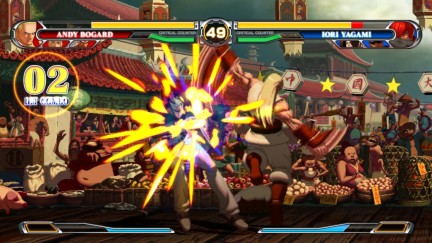 La redazione di Joystiq ha pubblicato alcune immagini davvero interessanti circa il prossimo King of Fighters XII, dove si può notare uno stile grafico particolare.
Come potete vedere dalle foto, il gioco rende molto bene grazie ad un ben calibrato filtro anti-aliasing, che farà parte di entrambe le versioni del titolo.
Uno dei rivali di Street Fighter IV quindi, si appresta a sferrare il suo personale colpo, con uno stile che sicuramente affascinerà i moltissimi appassionati della serie (tra cui il sottoscritto). Ricordiamo che King of Fighters XII è previsto in uscita per PlayStation 3 e Xbox 360 a Luglio di quest'anno.
via | Joystiq