Cosplay domenicale: Kirana, ottima cosplayer ucraina
Direttamente dall'Ucraina ecco arrivare una nuova e talentuosa cosplayer di nome Yulia Zayets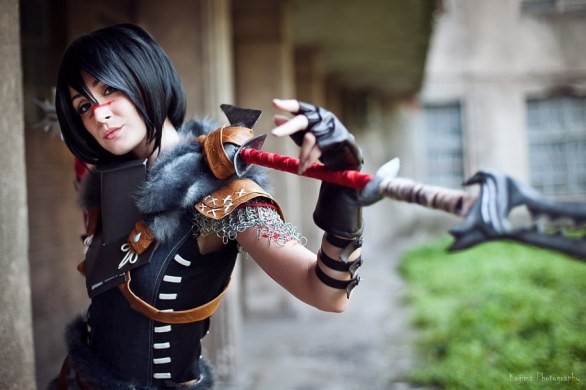 In questo nuovo appuntamento di Cosplay domenicale torniamo alla formula "ad personam" per presentarvi una cosplayer emergente di belle speranze: si tratta di The Kirana, al secolo Jilia Zayets, ragazza ucraina che si diletta nella creazione di costumi sin dal 2009 ma solo di recente è salita all'onore delle cronache per essere comparsa su alcuni siti specialzzati.
Fra i cosplay che vi proponiamo in questa galleria immagini Cosplay domenicale - Kirana, cosplayer ucraina troviamo i seguenti costumi: League of Legends - Vi, Dragon Age II - Lady Hawke. Poison Ivy. Darkstalkers - Morrigan, Dragon Age: Origins - Morrigan, personaggi di Odin Sphere e altri ancora.
Niente male, non credete? Alcuni in particolare ci sembrano toccare quel livello d'eccellenza proprio alle sole "cosplay-star".
Vi ricordiamo alcune "classiche" puntate precedenti di Cosplay domenicale:
Cosplay domenicale: una grottesca carrellata di cosplay improbabili
Cosplay domenicale: selezione random di marzo
Cosplay domenicale: sexy cosplayer di inizio 2013
Cosplay domenicale: le sexy-cosplayer del 2012
Cosplay domenicale: il MegaCon 2013
Cosplay domenicale: il meglio del Comic Con 2012 di San Diego – parte 1
Cosplay: 117 ragazze per tutti i gusti
Cosplay domenicale: il meglio del Comic Con 2012 di San Diego – parte 4 (300 immagini)