PlayStation Store: le novità di giovedì 2 aprile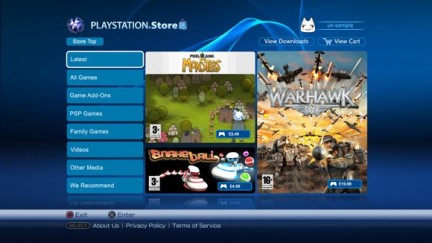 L'aggiornamento delle scorse ore del PlayStation Store conferma la scarsità di nuovo materiale che ha mediamente contraddistinto le ultime settimane, anzi se possibile ne segna un nuovo record. Un solo demo giocabile per PSP, nessun gioco intero (o meglio ce ne sono due, ma solo in Australia e Regno Unito), i soliti contenuti aggiuntivi. Speriamo nella primavera...
Demo giocabili:
Dynasty Warriors: Strike Force (PSP)
Contenuti aggiuntivi:
Command & Conquer: Red Alert 3
○ Isles of Conflict (free)
Continua dopo la pausa.
Guitar Hero World Tour
○ Pixies Pack (€5.49 | €1.99)
♪ "Debaser"
♪ "Monkey Gone To Heaven"
♪ "The Sad Punk"
Naruto Ultimate Ninja Storm
○ Storm Pack 9 (free)
○ Storm Pack 10 (free)
PAIN
○ Ao No Kutsu (€0.99)
○ Brock Lee (€0.99)
Rock Band
○ canzoni varie ( €1.49)
♪ "Don't Stop Believing'" - Journey
♪ "Heartbreaker" - Pat Benatar
♪ "Geraldine" - Glasvegas
♪ "C'Mon C'Mon" - Von Bondies
○ SpongeBob SquarePants Pack 01 (€2.29 | €0.79)
♪ "I Can't Keep My Eyes Off of You"
♪ "The Best Day Ever"
♪ "Where's Gary?"
Sonic Unleashed
○ Chun-nan Adventure Pack (€3.99)
Street Fighter IV
○ Classic Pack (€3.99)
Unreal Tournament III
○ Titan Pack (gratis)
Video:
Everybody's Golf World Tour - Extra Excitement Trailer
RUSE - Announcement Trailer: The Bluff
Split Second - Announcement Trailer
Temi e Sfondi:
PAIN - temi
Ragdoll Kung Fu - tema & sfondo