PlayStation Store: le novità di giovedì 18 giugno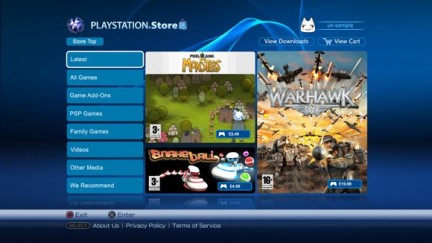 A differenza di quanto accaduto la settimana scorsa, l'aggiornamento del PlayStation Store avvenuto nelle scorse ore è stato piuttosto deludente: per la prima volta in più di due anni non sono presenti né demo né giochi completi, ma solo contenuti aggiuntivi, video e temi.
Rimaniamo ottimisti per il futuro, ma per lo meno ci aspettavamo una demo (magari di Ghostbusters) e qualche gioco.
Contenuti aggiuntivi:
MotorStorm: Pacific Rift - Jester Signature Livery Pack (Gratuit)
Guitar Hero: World Tour
Ben Harper Track Pack (5.99€)
Fly One Time - Ben Harper (1.99€)
Number with No Name - Ben Harper (1.99€)
Shimmer and Shine - Ben Harper (1.99€)
Continua dopo la pausa.
Rock Band
Evanescence Pack 01 (€3.99)
Bring Me Back to Life - Evanescence (€1.49)
Call Me When You're Sober - Evanescence (€1.49)
Weight of the World - Evanescence (€1.49)
Spinal Tap Pack 01 (€7.99)
Back from the Dead - Spinal Tap (€1.49)
Rock 'N' Roll Nightmare - Spinal Tap (€1.49)
Saucy Jack - Spinal Tap (€1.49)
Warmer than Hell - Spinal Tap (€1.49)
Video:
inFAMOUS Behind The Scenes Technology Trailer
Assassin's Creed 2 Commented Gameplay Trailer
Mini Ninjas Hiro Vignette
MotorStorm Pacific Rift Speed Trailer
Inferno Pool Trailer
Wallpaper PS3 :
Assassin's Creed 2 Wallpaper