Darksiders: 20 immagini dall'ultimo trailer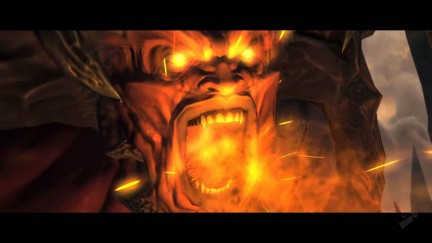 Abbiamo catturato venti immagini dall'ultimo e spettacolare trailer di Darksiders, vera e proria rivelazione allo scorso E3 2009.
Darksiders è un gioco d'azione con elementi RPG prodotto da THQ e sviluppato dai Vigil Games in cui il giocatore impersona nientemeno che War, il primo dei quattro Cavalieri dell'Apocalisse. L'azione si svolge sia nei classici dungeon sotterranei che all'aria aperta, con vaste aree esplorabili in "free roaming" e numerosi puzzle da risolvere.
Gli sviluppatori hanno dichiarato che, volendo fare paragoni, Darksiders è più simile alla serie The Legend of Zelda che a titoli come God of War o Devil May Cry. La storia narrata ha naturalmente sfondo apocalittico (e ci mancherebbe...) e tocca la famosa guerra finale tra inferno e paradiso nel giorno dell'Armageddon.
Darksiders arriverà su PS3 e X360 a gennaio 2010.
Darksiders - immagini dal trailer Turmoil