Gears of War 2: disponibili Dark Corners e All Fronts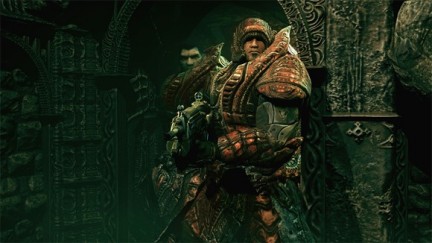 Da poche ore sono ufficialmente disponibili su Xbox Live le due espansioni per Gears of War 2: Dark Corners e All Fronts, rispettivamente a 1200 (14€) e 1600 (19€) punti Microsoft.
Dark Corners è composto da 7 nuove mappe multiplayer, nella fattispecie un rifacimento di War Machine, Allfathers Garden (ideale per armi pesanti), Highway (battaglia nel rifugio delle Locuste), Memorial (ambientata nella Tomb of the Unknowns), Nowhere (in un vecchio motel), Way Station e Sanctuary (rifacimento di una mappa PC). All Fronts è invece una raccolta di tutte le 19 mappe multiplayer di Gears of War 2 uscite finora.
Entrambi i pacchetti, inoltre, contengono un capitolo bonus per la campagna single player chiamato Road to Ruin dove per la prima volta nella serie è stata introdotta una modalità di gioco stealth (facoltativa) nella quale l'azione e l'adrenalina lasciano spazio a cautela e manovre diversive. Se ciò non andasse a genio, si può sempre selezionare la modalità classica e squartare locuste a colpi di motosega.
Dopo la pausa vi proproniamo un filmato di Road to Ruin confezionato dai ragazzi di Joystiq.