The Beatles Rock Band: a un giorno dall'uscita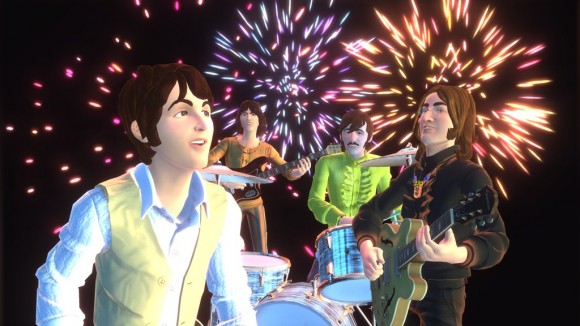 Mancano ormai solo poche ore all'uscita di The Beatles Rock Band, uno dei giochi musicali più attesi di sempre. Domani i fan dei ragazzi di Liverpool potranno finalmente mettere le mani sull'ultima fatica sviluppata da Harmonix, che rappresenterà un vero e proprio evento mediatico.
Per la prima volta, infatti, la musica dei baronetti verrà resa disponibile in un mercato diverso da quello musicale, così come l'immagine di ogni singolo elemento della mitica band. Scrivo questo post per celebrare l'evento e, soprattutto, per ricordarvi quali saranno le caratteristiche principali del titolo in questione.
The Beatles Rock Band conterrà 45 brani, decisamente pochi rispetto agli altri giochi musicali in circolazione, ma una quantità ottimale se consideriamo che si tratterà unicamente di canzoni della band che dà il nome al prodotto. Per godere al meglio dell'esperienza offerta dal gioco bisognerà disporre di diverse periferiche, tra chitarre, microfoni e batteria, ma fortunatamente si potrà ovviare a questo problema grazie alla compatibilità con strumenti dei giochi musicali usciti fino a questo momento. I microfoni di Lips o SingStar, in particolare, saranno perfetti per cimentarsi nelle armonizzazioni tipiche dei ragazzi di Liverpool.
Vi ricordo anche che già da domani sarà possibile scaricare, unicamente su Xbox Live, All You Need is Love, e che a seguire verranno messi a disposizione Abbey Road e Sgt. Pepper (gli album completi). Di seguito potete leggere la scaletta del gioco.
Singoli
* I Want To Hold Your Hand
* I Feel Fine
* Day Tripper
* Paperback Writer
* Revolution
* Don't Let Me Down
Please Please Me (1963)
* I Saw Her Standing There
* Boys
* Do You Want To Know A Secret
* Twist and Shout
With the Beatles (1963)
* I Wanna Be Your Man
A Hard Day's Night (1964)
* A Hard Day's Night
* Can't Buy Me Love
Beatles For Sale (1964)
* Eight Days a Week
Help! (1965)
* Ticket To Ride
Rubber Soul (1965)
* Drive My Car
* I'm Looking Through You
* If I Needed Someone
Revolver (1966)
* Taxman
* Yellow Submarine
* And Your Bird Can Sing
Sgt. Pepper's Lonely Hearts Club Band (1967)
* Sgt. Pepper's Lonely Hearts Club Band/With a Little Help From My Friends
* Lucy In The Sky With Diamonds
* Getting Better
* Good Morning Good Morning
Magical Mystery Tour (1967)
* I Am The Walrus
* Hello Goodbye
The Beatles (White Album) (1968)
* Dear Prudence
* Back In the U.S.S.R.
* While My Guitar Gently Weeps
* Birthday
* Helter Skelter
Yellow Submarine (1969)
* Hey Bulldog
Abbey Road (1969)
* Come Together
* Something
* Octopus's Garden
* I Want You (She's So Heavy)
* Here Comes the Sun
* The End
Let It Be (1970)
* Dig a Pony
* I Me Mine
* I Got a Feeling
* Get Back
Love (2006)
* Within You Without You/ Tomorrow Never Knows