Dragon Ball: Raging Blast - nuove immagini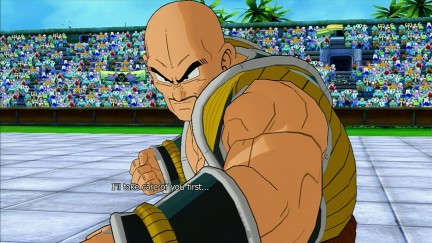 In attesa di farsi vedere finalmente in azione a novembre su PS3 e X360, Dragon Ball : Raging Blast torna a mostrarsi dopo qualche tempo grazie a delle nuove immagini rilasciate da Namco Bandai. I nuovi scatti riguardano la versione per la console Microsoft del gioco e ritraggono uno scontro tra Nappa e Chiaotzu.
Ricordiamo prima di passare alle immagini che Dragon Ball: Raging Blast sarà tra i nuovi titoli dedicati a Dragon Ball quello più vicino alla serie "Budokai Tenkaichi", mentre sono previsti anche il gioco di ruolo Dragon Ball Z: Attack of the Saiyans per Nintendo DS e il gioco d'azione Dragon Ball: Revenge of King Piccolo per Nintendo Wii, entrambi in arrivo entro l'autunno.