BAFTA Games Awards 2016, Fallout 4 è gioco dell'anno: Her Story e Rocket League fanno incetta di premi
La British Academy of Film and Television Arts premia i migliori videogiochi mainstream e indipendenti del 2015
La cerimonia organizzata sin dal dal 1998 dalla British Academy of Film and Television Arts (BAFTA) per premiare le più importanti opere videoludiche pubblicate nel corso dell'ultimo anno solare ha avuto finalmente luogo e ha incoronato Fallout 4 come miglior titolo del 2015: il kolossal post-apocalittico di Bethesda riesce a superare l'agguerrita concorrenza di capolavori del calibro di Everybody's Gone to the Rapture, Metal Gear Solid V, Rocket League, The Witcher 3 e Life is Strange.
Non meno importanti dei risultati raggiunti dal team di Todd Howard con l'ultimo capitolo della saga open world di Fallout ci sono poi i successi conseguiti dai ragazzi di Psyonix con Rocket League (miglior titolo multiplayer, miglior sportivo e miglior party game), da Sam Barlow con il toccante Her Story (miglior titolo di debutto, miglior videogioco per sistemi mobile e riconoscimento per il titolo più innovativo) e dagli autori di The Chinese Room con Everybody's Gone to the Rapture (miglior comparto audio, miglior performer per l'interpretazione di Merle Dandridge e miglior colonna sonora).
Tra gli eventi più emozionanti della cerimonia, citiamo infine il momento in cui il leggendario designer di DOOM e Quake, John Carmack, ha ricevuto il premio alla carriera, l'ambitissimo BAFTA Fellowship Award, per il suo inestimabile contributo all'arte videoludica moderna come pionere della grafica 3D.
A seguire, i vincitori dei BAFTA Games Awards 2016 divisi per categorie (con relative nomination).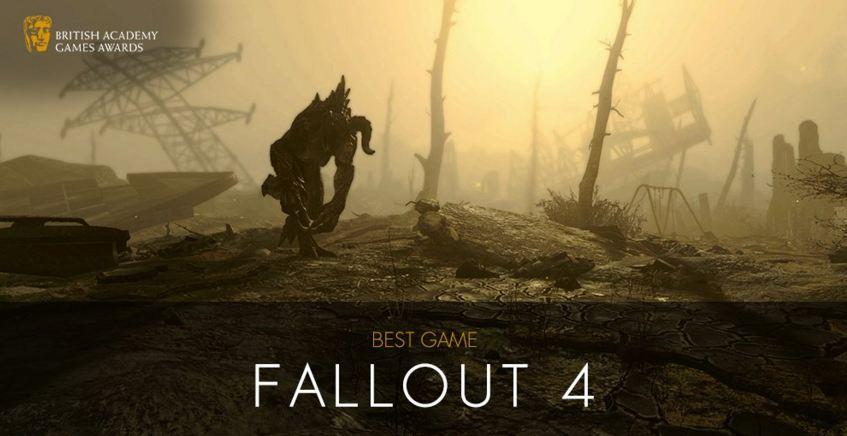 BAFTA 2015: le nomination dei game award, Alien: Isolation fa il pieno
British Academy Games Awards Winners
BEST GAME

FALLOUT 4 – Bethesda Game Studios/Bethesda Game Studios

EVERYBODY'S GONE TO THE RAPTURE – The Chinese Room/Sony Computer Entertainment Europe
LIFE IS STRANGE – Dontnod Entertainment/Square Enix
METAL GEAR SOLID V: THE PHANTOM PAIN – Kojima Productions/Konami
ROCKET LEAGUE – Psyonix/Psyonix
THE WITCHER 3: WILD HUNT – CD Projeckt Red/Bandai Namco Entertainment

BRITISH GAME

BATMAN: ARKHAM KNIGHT – Rocksteady Studios/WB Games

EVERYBODY'S GONE TO THE RAPTURE – The Chinese Room/Sony Computer Entertainment Europe
HER STORY Sam Barlow – Sam Barlow/ Sam Barlow
PRISON ARCHITECT – Introversion Software/Introversion Software
TEARAWAY UNFOLDED – Media Molecule/Sony Computer Entertainment Europe
UNTIL DAWN – Supermassive Games/Sony Computer Entertainment Europe

FELLOWSHIP AWARD

John Carmack

ARTISTIC ACHIEVEMENT

ORI AND THE BLIND FOREST – Moon Studios/Microsoft Studios

ASSASSIN'S CREED SYNDICATE – Ubisoft/Ubisoft
BATMAN: ARKHAM KNIGHT – Rocksteady Studios/WB Games
EVERYBODY'S GONE TO THE RAPTURE – The Chinese Room/Sony Computer Entertainment Europe
METAL GEAR SOLID V: THE PHANTOM PAIN – Kojima Productions/Konami
THE WITCHER 3: WILD HUNT – CD Projekt Red/Bandai Namco Entertainment

AUDIO ACHIEVEMENT

EVERYBODY'S GONE TO THE RAPTURE – The Chinese Room/Sony Computer Entertainment Europe

ASSASSIN'S CREED SYNDICATE – Ubisoft/Ubisoft
BATMAN: ARKHAM KNIGHT – Rocksteady Studios/WB Games
METAL GEAR SOLID V: THE PHANTOM PAIN – Kojima Productions/Konami
STAR WARS BATTLEFRONT – EA Dice/Electronic Arts
THE WITCHER 3: WILD HUNT – CD Projekt Red/Bandai Namco Entertainment

DEBUT GAME

HER STORY Sam Barlow – Sam Barlow/ Sam Barlow

KEEP TALKING AND NOBODY EXPLODES Ben Kane, Brian Fetter, Allen Pestaluky – Steel Crate Games/Steel Crate Games
LOVERS IN A DANGEROUS SPACETIME Matt Hammill, Jamie Tucker, Adam Winkels – Asteroid Base/Asteroid Base
MINI METRO – Dinosaur Polo Club/AGM Playism
ORI AND THE BLIND FOREST – Moon Studios/Microsoft Studios
PRUNE Joel McDonald – Joel McDonald, Kyle Preston/Joel McDonald

FAMILY

ROCKET LEAGUE – Psyonix/Psyonix

DISNEY INFINITY 3.0: PLAY WITHOUT LIMITS John Blackburn, John Vignocchi, Bob Lowe – Avalanche Studios, Disney Interactive Studios/Disney Interactive Studios
FIFA 16 – EA Canada/EA Sports
GUITAR HERO: LIVE – Freestyle Games/Activision
LEGO DIMENSIONS Jon Burton, James McLoughlin, Nick Ricks – TT Games/WB Games
SUPER MARIO MAKER – Nintendo/Nintendo

GAME DESIGN

BLOODBORNE – FromSoftware/Sony Computer Entertainment Europe

GROW HOME – Ubisoft/Ubisoft
HER STORY Sam Barlow – Sam Barlow/ Sam Barlow
LOVERS IN A DANGEROUS SPACETIME Matt Hammill, Jamie Tucker, Adam Winkels – Asteroid Base/Asteroid Base
ROCKET LEAGUE – Psyonix/Psyonix
THE WITCHER 3: WILD HUNT – CD Projeckt Red/Bandai Namco Entertainment

GAME INNOVATION

HER STORY Sam Barlow – Sam Barlow/Sam Barlow

EVERYBODY'S GONE TO THE RAPTURE – The Chinese Room/Sony Computer Entertainment Europe
LIFE IS STRANGE – Dontnod Entertainment/Square Enix
METAL GEAR SOLID V: THE PHANTOM PAIN Development Team – Kojima Productions/Konami
SPLATOON – Nintendo/Nintendo
UNTIL DAWN – Supermassive Games/Sony Computer Entertainment Europe

MOBILE & HANDHELD

HER STORY Sam Barlow – Sam Barlow/Sam Barlow

ALPHABEAR – Spry Fox/Spry Fox
FALLOUT SHELTER – Bethesda Game Studios/Bethesda Softworks
LARA CROFT GO – Square Enix Montreal/Square Enix
PRUNE Joel McDonald – Joel McDonald, Kyle Preston/Joel McDonald
THE ROOM THREE – Fireproof Games/Fireproof Games

MULTIPLAYER

ROCKET LEAGUE – Psyonix/Psyonix

DESTINY: THE TAKEN KING – Bungie/Activision
LOVERS IN A DANGEROUS SPACETIME Matt Hammill, Jamie Tucker, Adam Winkels – Asteroid Base/Asteroid Base
SPLATOON – Nintendo/Nintendo
TOM CLANCY'S RAINBOW SIX SIEGE – Ubisoft/Ubisoft
WORLD OF WARSHIPS – Wargaming.net/Wargaming.net

MUSIC

EVERYBODY'S GONE TO THE RAPTURE – Jessica Curry – The Chinese Room/Sony Computer Entertainment Europe

ASSASSIN'S CREED SYNDICATE – Ubisoft/Ubisoft
BATMAN: ARKHAM KNIGHT – Rocksteady Studios/WB Games
FALLOUT 4 – Bethesda Game Studios/Bethesda Softoworks
HALO 5: GUARDIANS Kazuma Jinnouchi, Nobuko Toda, Peter Cobbin – 343 Industries/Microsoft Studios
ORI AND THE BLIND FOREST – Gareth Coker – Moon Studios/ Microsoft Studios

ORIGINAL PROPERTY

UNTIL DAWN – Supermassive Games/Sony Computer Entertainment Europe

EVERYBODY'S GONE TO THE RAPTURE – The Chinese Room/Sony Computer Entertainment Europe
HER STORY Sam Barlow – Sam Barlow/Sam Barlow
LIFE IS STRANGE – Dontnod Entertainment/Square Enix
ORI AND THE BLIND FOREST – Moon Studios/Microsoft Studios
SPLATOON – Nintendo/Nintendo

PERFORMER

MERLE DANDRIDGE as Kate Collins in Everybody's Gone to the Rapture

ASHLY BURCH as Chloe Price in Life is Strange
DOUG COCKLE as Geralt of Rivia, Witcher in The Witcher 3: Wild Hunt
OLIVER DIMSDALE as Stephen Appleton in Everybody's Gone to the Rapture
MARK HAMILL as The Joker in Batman: Arkham Knight
MASASA MOYO as Vella in Broken Age: Act 2

PERSISTENT GAME

PRISON ARCHITECT – Introversion Software/Introversion Software

DESTINY: THE TAKEN KING – Bungie/Activision
FINAL FANTASY XIV ONLINE – Square Enix/Square Enix
GUITAR HERO: LIVE – Freestyle Games/Activision
LEGO DIMENSIONS Jon Burton, James McLoughlin, Dave Dootson – TT Games/WB Games
THE WITCHER 3: WILD HUNT – CD Projekt Red/Bandai Namco Entertainment

SPORT

ROCKET LEAGUE – Psyonix/Psyonix

DIRT RALLY – Codemasters/Codemasters
FIFA 16 – EA Canada/EA Sports
FOOTBALL MANAGER – Sports Interactive/SEGA
FORZA MOTORSPORT 6 – Turn10/Microsoft
PES 2016 – Konami Digital Entertainment/Konami Digital Entertainment B.V.

STORY

LIFE IS STRANGE – Dontnod Entertainment/Square Enix

EVERYBODY'S GONE TO THE RAPTURE – The Chinese Room/Sony Computer Entertainment Europe
HER STORY Sam Barlow – Sam Barlow/ Sam Barlow
UNDERTALE – tobyfox/tobyfox
UNTIL DAWN – Supermassive Games/Sony Computer Entertainment Europe
THE WITCHER 3: WILD HUNT – CD Projekt Red/Bandai Namco Entertainment

BAFTA ONES TO WATCH AWARD IN ASSOCIATION WITH DARE TO BE DIGITAL

SUNDOWN Steven Li, Aaron Hong, McLean Goldwhite, Theodore Park, Kenny Regan, Cynthia Cantrell, Gracie May, Jade Kim – Mild Beast Games

SELFIENATION Cheri Skivington, Daniel Prihodko, Ricardo Barros, Zoltán Tompa, Hajnalka Szanto Irina Kovalova – Pictrail
THE WALL SHALL STAND Edward Burton, Edward Grimes, Cameron Richards, Steven Sparkes – Pixel Tailors

AMD eSPORTS AUDIENCE AWARD

SMITE – Hi-Rez Studios/Hi-Rez Studios

CALL OF DUTY:BLACK OPS 3 Treyarch/ Activision
COUNTER-STRIKE: GLOBAL OFFENSIVE Hidden Path Entertainment/Valve
DOTA 2 Valve/Valve
HEARTHSTONE: HEROES OF WARCRAFT Blizzard Entertainment/Blizzard Entertainment
LEAGUE OF LEGENDS Riot Games/Riot Games