PlayStation Store: le novità di giovedì 10 dicembre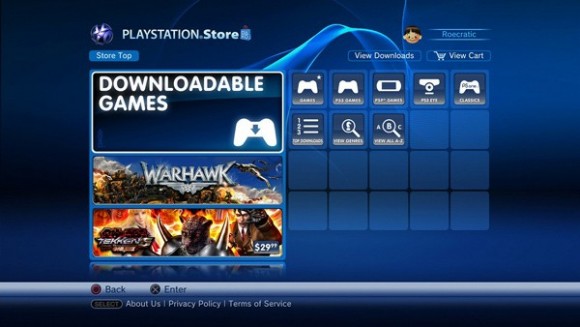 Ecco a voi i contenuti che verranno pubblicati entro ora di cena sul PlayStation Store. Ricordiamo che questa notte verrà pubblicata sul PS Store americano la demo di Dante's Inferno, che da noi arriverà solo il 24 dicembre. Chi la volesse in anteprima deve munirsi di un account adeguato.
Offerte speciali fino al 17 dicembre:
Killzone 2 – Flash and Thunder Pack (€2.99)
Killzone 2 – Map Pack Bundle (€9.99)
SOCOM Confrontation (€19.99)
The Last Guy (€4.99)
Dark Mist (€4.99)
Killzone Liberation (PSP) (€9.99)
MediEvil Resurrection (PSP) (€9.99)
Gangs of London (PSP) (€9.99)
Need for Speed: Most Wanted 5-1-0 (PSP) (€14.99)
Need for Speed: ProStreet (PSP) (€14.99)
Demo scaricabili:
Fairytyale Fights – White Room Demo
Giochi completi PS3/PSOne:
Call of Duty Classic (€14.99)
PixelJunk Shooter (€7.99)
Hyperballoid HD (€3.99)
Buzz! Junior: Dino Den (€4.99)
Continua dopo la pausa.
Giochi completi PSP:
Tekken 6 (esce l'11 dicembre) (€39.99)
James Cameron's AVATAR: The Game (€29.99)
Star Wars: The Force Unleashed (€19.99)
F1 2009 (€29.99)
Metal Gear Solid Portable Ops (€10.99)
Metal Gear Solid Portable Ops + (€7.99)
Metal Gear Solid Digital Graphic Novel (€7.99)
Lord of the Rings Tactics (€19.99)
The Sims 2: Pets (€19.99)
Contenuti aggiuntivi:
* Dragon Ball: Raging Blast – Alien Warriors Pack (free) Rating: PEGI 12
* EyePet – Lucky Dip Styling Pack 8 (free) Rating: PEGI 3
* Pain – PainBall (£1.59/€1.99) Rating: PEGI
* High Velocity Bowling -
o Animal Patterns Ball Pack (£0.79/€0.99)
o Winter Holiday Ball Pack (£0.79/€0.99)
o Ginger PAINful Xmas Pack (£0.79/€0.99)
o Jarvis PAINful Xmas Pack (£0.79/€0.99)
* Rock Band -
o Dreaming of Love by Lights Resolve (free)
o I Am a Rock by Simon & Garfunkel (£0.99/€1.49)
o The Sound of Silence by Simon & Garfunkel (£0.99/€1.49)
o Psychosocial by Slipknot (£0.99/€1.49)
o Sulfur by Slipknot (£0.99/€1.49)
o Duality by Slipknot (£0.99/€1.49)
o Slipknot Pack 01 (includes the three tracks above) (£2.49/€3.99)
o Alice in Chains Pack 01 (£4.39/€6.59)
* Guitar Hero 5 -
o All The Right Moves By One Republic (£1.59/€1.99)
o Everybody Loves Me By One Republic (£1.59/€1.99)
o Mercy By One Republic (£1.59/€1.99)
o One Republic Track Pack (includes the three tracks above) (£4.39/€5.49)
Motion Comics:
* Uncharted 2 – The Eye of Indra Skins and Comics Bundle (£2.39/€2.99) (includes all four comics and three exclusive multiplayer skins)
Video:
* Uncharted 2 Behind the Scenes Trailers
* Sonic and Sega Allstars Racing Announcement Trailer
* Sonic and Sega Allstars Racing Gamescom Trailer
* Sonic and Sega Allstars Racing Ryo Trailer
* Mushroom Wars Trailer
* PLANET 51: The Game Launch Trailer
* Burn Zombie Burn! In Space DLC Trailer
* Borderlands Premier Gameplay Trailer
* DC Universe Jim Lee Vlog
* Ratchet & Clank: A Crack in Time Writer and Artist Interview Trailer
Wallpaper:
* Dante's Inferno Anger Circle Wallpaper
minis (also available via the PS3 store)
* Dynogems (£2.49/€2.99) Rating: PEGI 3
* Heracles Chariot Racing (£3.49/€3.99) Rating: PEGI 7
Let's Golf! (£3.99/€4.99) Rating: PEGI 3
* Telegraph Crosswords (£3.49/€3.99) Rating: PEGI 3
* Beam 'Em Up (£2.49/€2.99) Rating: PEGI 7
* Dynasty Warriors: Strikeforce Additional Quests 8 (free) Rating: PEGI 12
* Cover Girl -
o N°1 : Positive Attitude (free)
o N°2 : Diplomacy (free)
o N°3 : Confidence (free)