Rewind 2009: la classifica dei giochi più scaricati nel 2009 su iPhone/iPod Touch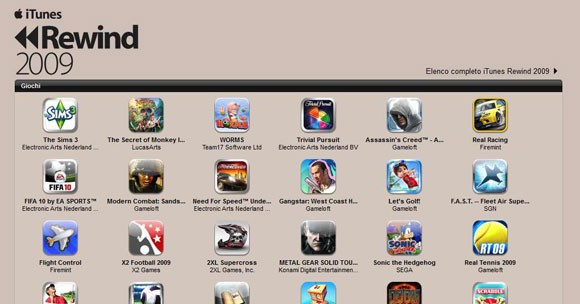 Dalle pagine dell'iTunes Store, Apple ha rilasciato la lista ufficiale dei videogiochi più scaricati quest'anno su iPod Touch e iPhone.
Nella sezione "giochi" dell'iTunes Rewind 2009 troviamo in primissima posizione The Sims 3 di Electronic Arts, seguito da The Secret of Monkey Island e dal sempreverde Worms: gli unici giochi creati espressamente per il melafonino ed entrati nella Top 10 sono Real Racing (un ottimo "simulatore" di guida), Modern Combat Sandstorm (un FPS ispirato a Call of Duty 4) e Gangstar West Coast Hustle (una sorta di "clone" di GTA: Vice City).
Dopo la pausa, quindi, la lista dei venti titoli più acquistati nell'App Store della casa di Cupertino.
via | Rewind 2009 (il link apre direttamente la pagina relativa su iTunes)
iTunes Rewind 2009
1. The Sims 3
2. The Secret of Monkey Island
3. Worms
4. Trivial Pursuit
5. Assassin's Creed – Altair's Chronicles
6. Real Racing
7. Fifa 10
8. Modern Combat – Sandstorm
9. Need For Speed Underground
10. Gangstar: West Coast Hustle
11. Let's Golf!
12. F.A.S.T. -- Fleet Air Superiority Training!
13. Flight Control
14. X2 Football 2009
15. 2XL Supercross
16. Metal Gear Solid Touch
17. Sonic the Hedgehog
18. Real Tennis 2009
19. Civilization Revolution
20. Cluedo