Tom Bombadill in LOTR Online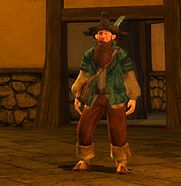 Per la serie 'cose non necessarie ma comunque gradite', Turbine ha annunciato che il mitologico Tom Bombadil sarà presente nel suo MMORPG ispirato al mondo creato da Tolkien.
Essendo basato solo sul libro, Shadow of Angmar potrebbe rivelarsi una sorpresa inaspettata, capace di attirare i tolkieniani hardcore che si lamentano delle semplificazioni compiute da Peter Jackson con la sua trilogia (e io di gente così ne conosco un bel po'). Basta che Turbine non si faccia prendere dalla boria cercando di realizzare l'ennesimo zoppicante clone di World of Warcraft: ci ha già provato con Dungeon & Dragons: Online e le cose non sono andate esattamente benissimo.