God of War III: svelata la lista dei Trofei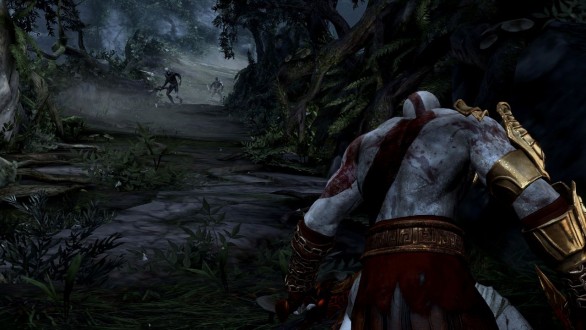 Giorno 17 Marzo è oramai alle porte e con esso, chiaramente, l'approdo sugli scaffali dell'attesissimo God of War III. Alla luce di ciò non potevamo certo esimerci dal fornirvi la lista dei trofei sbloccabili relativamente al terzo capitolo dell'avventura di Kratos. L'intera lista la troverete dopo la consueta pausa.
Del gioco in sé si è già detto parecchio, forse più del dovuto dato che ancora non disponiamo del titolo completo. Molti colleghi però, in possesso della copia finale, hanno emesso dei verdetti decisamente positivi, ultimi in ordine cronologico la rivista cartacea EDGE.
Nel frattempo non sono mancate speculazioni da parte di Sony riguardo la possibilità di vedere dei contenuti scaricabili o, addirittura, un nuovo capitolo della serie. Ma i tempi ci paiono comunque prematuri ancora. Non ci resta che lasciarvi alla lista completa dei trofei accessibile dopo la pausa.
BRONZE
Mr. Hand
Discover the secret 'Hades Arm' room
Strategy: Hades Arm room can be found after passing through the Judges of the Underworld area. When you reach the point where you have to push the flammable rubble to where the fire is, you will unlock a door when you hang at the ledge. See the Game Guide for Details.
Hit Man
Perform a 1000-hit combo
Strategy: This is only possible at the Forum while fighting Hercules. There will be a lot of Sentries in the whole Arena and it will keep on respawning until Hercules goes to his second form. See the Game Guide for Details.
Rip One!
Rip apart 1 Olympus Sentry
Strategy: Grab an Olympus Sentry
Nice Tan
Blind 100 enemies with the Head of Helios
Strategy: As soon as you acquire the Head of Helios, start blinding enemies by holding R2 and pressing Triangle.
Obedience School
Deliver 50 kicks to Hounds
Strategy: Instead of killing the hounds with weapon, grab them by pressing the Circle button and Kratos will kick them.
It's getting hot in here…
Burn 100 enemies with the Bow of Apollo
Strategy:: Keep firing Fire Arrows with the Bow of Apollo as soon as you acquire it from the Realm of Hades area.
Souled Out
Summon every Soul with the Claws of Hades
Strategy: Get the Claws of Hades' level maxed out and all of the Souls that you can summon will be available.
Bloody Hell
Cover Kratos in 500 buckets of blood by killing the enemies
Strategy: Just kill!
No Guts, No Glory
Gut 3 Centaur Generals
Strategy:When you fight a Centaur General, kill them by performing a QTE kill.
Hitting Your Stride
Upgrade any weapon to the next level
Strategy: Upgrade your weapon by using the Red Orbs.
SILVER
Eye Candy
Collect all of the Gorgon Eyes
Strategy: Collect all 12 Gorgon Eye throughout the game. See Game Guide for Details.
Feather Plucker
Collect all of the Phoenix Feathers
Strategy: Collect all 12 Phoenix Feather throughout the game. See Game Guide for Details.
Are You Horny to Win?
Collect all of the Minotaur Horns
Strategy: Collect all 12 Minotaur's Horn throughout the game. See Game Guide for Details.
Maxed Out!
Completely upgrade all weapons
Strategy: Collect all 12 Gorgon Eye throughout the game. See Game Guide for Details.
GOLD
Vengeance Complete
Beat the game
Up to the Challenge
Beat the Challenge of Olympus
Strategy: Finish the seven challenges of Olympus.
Unhuman
Beat Titan Mode
Strategy: Finish the game under the Titan Mode difficulty.
Priceless
Collect all of the 'Godly Possessions'
Strategy: Collect the Godly Possession that the Gods drop after each death. See Game Guides for Details.
aMAZEd (SECRET TROPHY)
Finish the Labyrinth without getting killed
STORY RELATED: SECRET TROPHIES
Silver Trophies
Sibling Rivalry
- Kill Hercules
Titan Slayer
- Kill Cronos
Retribution
- Kill Zeus
Hooker
- Kill Hades
Freezer Burn
- Acquire the Boreas Icestorm
Seeing things from a different perspective
- Solve Hera's Garden
Bronze Trophies
Releasing the Floodgate
- Kill Poseidon
Burnt to a Crisp
- Acquire the Bow of Apollo
Mr. Hand
- Discover the secret of "Hades Arm"
Shine Lord
- Kill Helios
Shoe Delivery
- Kill Hermes and acquire his Boots
I didn't do it… But I wish I did
- Kill the Poseidon Princess
Ladies Man
- Successfully entertain Aphrodite
Handy Man
- Sever Gaia's Hand
Open Sesame
- Open the Gates of Tisiphone
Rescue Me
- Save Pandora
Three Wise Men
- Solve the Three Judges
via | Just Push Start