Vintage Games: disponibili nove capitoli gratuiti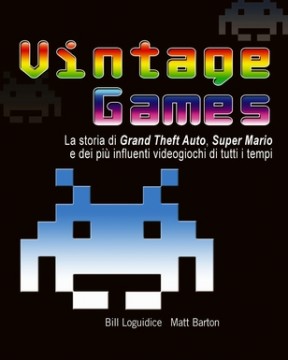 Come vi avevamo già segnalato, Vintage Games è un libro scritto da Bill Loguidice e Matt Barton che analizzando pietre miliari come Super Mario Bros., GTA o Zelda ci racconta l'evoluzione quarantennale dell'intero universo dei videogiochi.
Oltre ai venticinque capitoli cartacei, ognuno dedicato a un capolavoro che hanno fatto la storia, sono già disponibili nove capitoli aggiuntivi scaricabili online a questo indirizzo. Ben 151 pagine di PDF che ripercorrono la storia di Pong, Elite, Tony Hawk's Pro Skater e altri titoli meno famosi ma non più importanti.
L'edizione italiana del libro cartaceo, di 400 pagine e proposto ad un prezzo di 30€, è pubblicata dalla neonata Edizioni Raganella e può essere acquistata sul sito ufficiale. Augh.
L'elenco completo dei giochi presi in esame nel libro è il seguente: Alone in the Dark, Wolfenstein, Dance Dance Revolution, Diablo, DooM, Dune II, Final Fantasy VII, Flight Simulator, Grand Theft Auto III, John Madden Football, King's Quest, Myst, Pac-Man, Pole Position, SimCity, Space Invaders, Street Fighter II, Super Mario 64 (insieme a Tomb Raider), Super Mario Bros., Tetris, The Legend of Zelda, The Sims, Ultima, Ultima Online e Zork.