Il prossimo numero di PSM3 svelerà 2 esclusive mondiali per PlayStation 3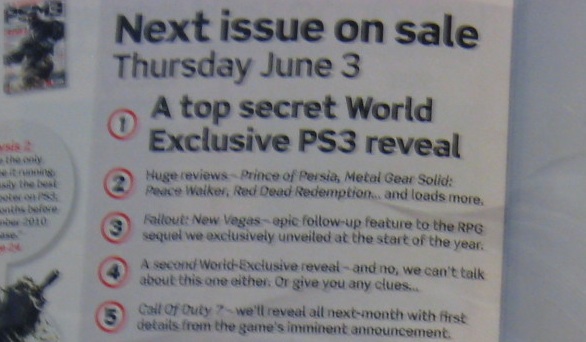 Stando all'immagine riportata qui sopra, sembrerebbe che il prossimo numero del magazine PSM3 svelerà ben 2 esclusive mondiali per PlayStation 3.
Sulle pagine della rivista è infatti indicato l'elenco delle novità presenti all'interno di PSM3 di giugno. Oltre alle recensioni di Metal Gear Solid: Peace Walker, Red Dead Redemption, Prince of Persia: Le Sabbie Dimenticate e gli speciali su Call of Duty: Black Ops e Fallout: New Vegas, spicca in particolare la rivelazione di una esclusiva "top secret" per console Sony seguita da una secondo gioco inedito legato sempre a PlayStation 3.
Quali saranno queste misteriose esclusive? In attesa di notizie ufficiali potete ovviamente dare libero sfogo alle vostre supposizioni.
via | AGB