Night Life prossima espansione per The Sims 2?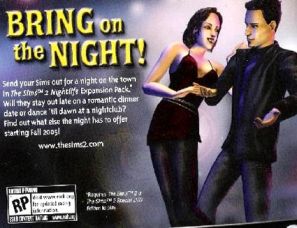 Questa immagine, scannerizzata, sarebbe presente sul retro della copertina dell'espansione University per The Sims 2. Nel frattempo il gioco sta arrivando nei negozi americani, quindi credo che nelle prossime ore scopriremo se si tratta dell'ennesimo fake oppure di qualcosa di reale.
Sempre più originali le espansioni della Maxis, non é vero?