Call of Duty: Black Ops - dettagli da OXM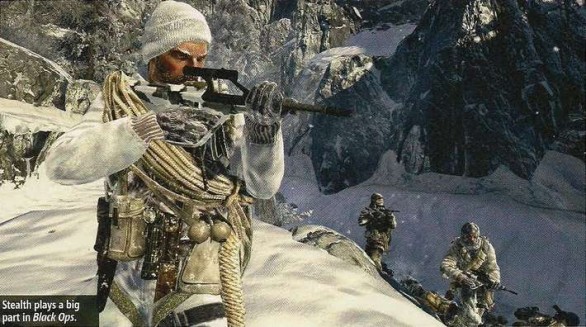 Vi abbiamo già proposto le scansioni di Call of Duty: Black Ops prese da OXM ,e ora vi riportiamo tutti i dettagli rivelati.
Il team ha "preso dei rischi" e implementato molte novità


Alcune missioni saranno combattute contro l'armata Nord Vietnamita


Il protagonista è un soldato con un'importante missione segreta


Spas-12 con proiettili incendiari confermato


Confermata la possibilità di pilotare un elicottero, con missili e mitragliatrici


Ci saranno fasi un cui sarà necessario nuotare e immergersi nel fiume Huong


Diversi veicoli pilotabili, ma "in modo diverso che su WAW"

Continua dopo la pausa.

Modalità cooperativa dedicata con livelli separati dalla campagna single player


No comment sul ritorno della modalità Nazi Zombies


Beta multiplayer in fase di vaglio


Matchmaking rinnovato per trovare gli amici più facilmente


La modalità multiplayer è in fase di lavorazione da addirittura prima che la modalità campagna


Personalizzazione del soldato virtuale più profonda che mai con Create-a-Class 2.0, compresi anche oggetti per modificare il solo look


Una promessa: il salto qualitativo da Call of Duty: World at War a Call of Duty: Black Ops sarà lo stesso che c'è stato fra Call of Duty 2 e Call of Duty: Modern Warfare
Call of Duty: Black Ops è previsto in uscita il 9 novembre 2010 su PC, PS3 e X360.