Gears of War 3: schede descrittive dei Lambent da Game Informer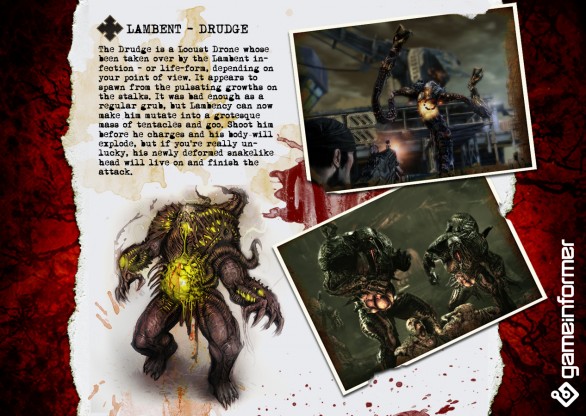 Se avete apprezzato le precedenti schede fornite da Game Informer riguardanti i personaggi della squadra Delta e le armi presenti in Gears of War 3, continuamo oggi con il mostrarvi le interessanti descrizioni dei temibili Lambent.
Le nuove schede descrittive disponibili nella nostra galleria offrono informazioni dettagliati sulle varie tipologie di Lambent presenti nel gioco, ossia la nuova razza di Locuste mutanti derivate dall'elevato contatto con il liquido giallastro denominato Imulsion.
Gears of War 3 è atteso per l'8 aprile 2011 solo su Xbox 360. Di seguito le nuove immagini.