Gordon Freeman il miglior personaggio di sempre secondo Empire - classifica Top 50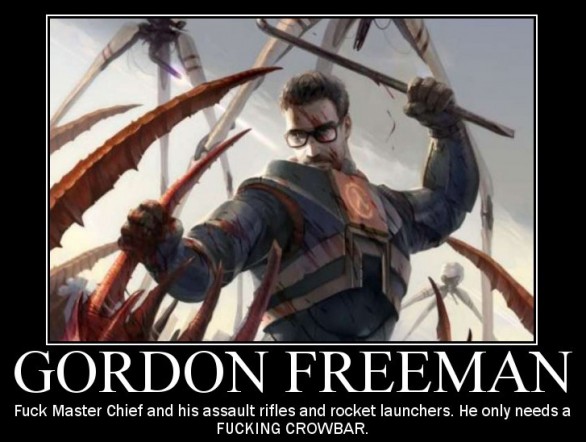 Empire ha stilato la sua personale classifica dei migliori personaggi apparsi nei videogiochi. A vincere è quel volpone di Gordon Freeman, nonostante non goda di chissà quale carisma. Lo omaggiamo con questa immagine di apertura.
Nonostante alcune chicche come il fantastico Nameless One, è inutile dire che non siamo d'accordo quasi su nulla: alcuni di questi personaggi mancano di carisma o addirittura di caratterizzazione, e dovrebbero stare molto più in basso in classifica. In ogni caso, a voi la Top 20. Per vedere l'intera Top 50 cliccate questo link.
Gordon Freeman (Half-Life)


Mario (Super Mario)


Shodan (System Shock)


The Nameless One (Planescape Torment)


Lara Croft (Tomb Raider)


Link (The Legend of Zelda)


Guybrush Threepwood (Monkey Island)


Master Chief (Halo)


I Lemmings (Lemmings)


Sephirot (Final Fantasy VII)


Minsc e Boo (Baldur's Gate)


Glados (Portal)


Cloud Strife (Final Fantasy VII)


Sonic (Sonic the Hedgehog)


Kratos (God of War)


Brucie (Grand Theft Auto IV)


Illidan Stormrage (Warcraft III)


Alice (American McGee's Alice)


Solid Snake (Metal Gear Solid)


Duke Nukem (Duke Nukem 3D)
Le prime cose che ci vengono in mente: assenza totale di Zak McKracken, Brucie e Alice assolutamente fuori luogo, Solid Snake troppo in basso. Anche Sarevok di Baldur's Gate, Riuji Yamazaki di King of Fighters (uno dei personaggi meglio caratterizzati di sempre) e un elenco di personaggi provenienti da RPG giapponesi troppo lungo per essere riportato non avrebbero sfigurato. E voi che ne dite? Giù con i commenti!