12 Deals of Christmas, agli sconti di Natale sul PlayStation Store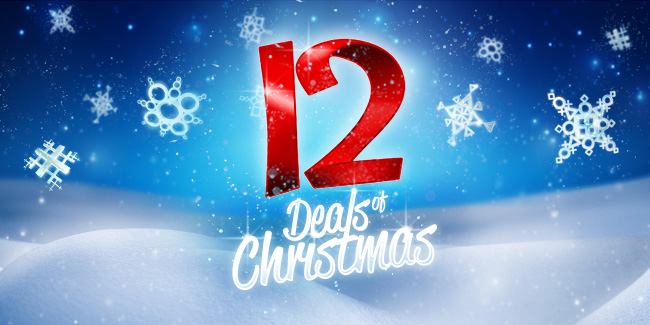 Archiviato il Black Friday, Sony presenta nuovi sconti grazie ai 12 Deals of Christmas.
Metal Gear Solid V: The Phantom Pain – la recensioneIn vista dell'ormai imminente Natale, Sony ha rinnovato le offerte intitolate 12 Deals of Christmas sul PlayStation Store. Si tratta di una serie di sconti che andranno avanti per i prossimi giorni, alcuni dei quali "lampo" mentre altri protratti fino al 24 dicembre.
Il primo "deal" in esclusiva per oggi è dedicato a Metal Gear Solid V: The Phantom Pain, in vendita con il 50% di sconto a 34,99 euro su PlayStation 4 e 29,99 euro su PlayStation 3. Lo sterminato elenco di giochi che saranno invece proposti a prezzo ridotto (meno di 15 euro) fino alla vigilia di Natale è invece questo:
Agarest: Generations of War 2
57% di sconto
Da €34.99 a €14.99
Agarest: Generations of War Zero
60% di sconto
Da €24.99 a €9.99
Amnesia: Memories
50% di sconto
Da €29.99 a €14.99
Ar nosurge Plus: Ode to an Unborn Star
63% di sconto
Da €39.99 a €14.99
ArcaniA – The complete tale
50% di sconto
Da €29.99 a €14.99
Assassin's Creed
50% di sconto
Da €9.99 a €4.99
Assassin's Creed 2
50% di sconto
Da €9.99 a €4.99
Assassin's Creed 2 Complete Pack
60% di sconto
Da €14.99 a €5.99
Assassin's Creed 2 Game of the Year Edition
60% di sconto
Da €14.99 a €5.99
Assassin's Creed 3 – Gold Edition
60% di sconto
Da €34.99 a €11.99
Assassin's Creed Brotherhood
36% di sconto
Da €10.99 a €6.99
Assassin's Creed Brotherhood Complete Pack
60% di sconto
Da €19.99 a €7.99
Assassin's Creed Revelations
30% di sconto
Da €9.99 a €6.99
Atelier Ayesha: The Alchemist of Dusk
48% di sconto
Da €24.99 a €12.99
Atelier Escha & Logy ~Alchemists of the Dusk Sky
50% di sconto
Da €29.99 a €14.99
Atelier Meruru Plus: The Apprentice of Arland
63% di sconto
Da €39.99 a €14.99
Batman Arkham Collection
50% di sconto
Da €29.99 a €14.99
Batman Arkham Origins
33% di sconto
Da €14.99 a €9.99
Batman: Arkham Asylum
33% di sconto
Da €14.99 a €9.99
Batman: Arkham City
33% di sconto
Da €14.99 a €9.99
Batman: Arkham Origins Blackgate
25% di sconto
Da €19.99 a €14.99
Battlefield 1943
50% di sconto
Da €9.99 a €4.99
Battlefield 3
77% di sconto
Da €29.99 a €6.99
Battlefield 3 Premium Edition
80% di sconto
Da €49.99 a €9.99
Battlefield: Bad Company 2
75% di sconto
Da €19.99 a €4.99
Bound by Flame
50% di sconto
Da €19.99 a €9.99
Burnout Crash!
50% di sconto
Da €9.99 a €4.99
Burnout Paradise Complete Edition
60% di sconto
Da €29.99 a €11.99
Call of Duty Black Ops: Declassified
70% di sconto
Da €49.99 a €14.99
Castle of Illusion Starring Mickey Mouse
62% di sconto
Da €12.99 a €4.99
Crysis
62% di sconto
Da €12.99 a €4.99
Crysis 2
53% di sconto
Da €14.99 a €6.99
Crysis 3
50% di sconto
Da €19.99 a €9.99
Dead or Alive Paradise
33% di sconto
Da €14.99 a €9.99
DiRT Showdown
62% di sconto
Da €12.99 a €4.99
DiRT3
53% di sconto
Da €14.99 a €6.99
Dragon Ball Z: Battle of Z (PS3 and PS Vita)
25% di sconto
Da €19.99 a €14.99
Dragon's Dogma: Dark Arisen
75% di sconto
Da €19.99 a €4.99
Dynasty Warriors 8 Empires
63% di sconto
Da €39.99 a €14.99
Dynasty Warriors Next
50% di sconto
Da €19.99 a €9.99
Dynasty Warriors: Strikeforce
50% di sconto
Da €19.99 a €9.99
Everybody's Golf
50% di sconto
Da €9.99 a €4.99
Everybody's Golf: World Tour Complete Edition
62% di sconto
Da €12.99 a €4.99
Fairy Fencer F
40% di sconto
Da €19.99 a €11.99
Far Cry Classic
50% di sconto
Da €9.99 a €4.99
Fast & Furious: Showdown
75% di sconto
Da €39.99 a €9.99
Fatal Inertia EX
50% di sconto
Da €19.99 a €9.99
Fight Night Champion
75% di sconto
Da €19.99 a €4.99
God of War: Ascension
33% di sconto
Da €14.99 a €9.99
God of War Collection (PS3)
25% di sconto
Da €19.99 a €14.99
God of War Collection (PS Vita)
40% di sconto
Da €24.99 a €14.99
God of War Collection Volume II
25% di sconto
Da €19.99 a €14.99
God of War HD
47% di sconto
Da €14.99 a €7.99
God of War: Chains of Olympus
47% di sconto
Da €14.99 a €7.99
God of War: Ghost of Sparta
47% di sconto
Da €14.99 a €7.99
Gravity Rush
47% di sconto
Da €14.99 a €7.99
Grid Autosport
40% di sconto
Da €24.99 a €14.99
Hyperdimension Neptunia ReBirth3: V Generation
63% di sconto
Da €39.99 a €14.99
inFAMOUS
54% di sconto
Da €12.99 a €5.99
inFAMOUS 2
65% di sconto
Da €19.99 a €6.99
inFAMOUS Collecton
40% di sconto
Da €24.99 a €14.99
Jak 3 (PS3)
30% di sconto
Da €9.99 a €6.99
Jak 3 (PS Vita)
53% di sconto
Da €14.99 a €6.99
Jak and Daxter Trilogy (PS3)
40% di sconto
Da €24.99 a €14.99
Jak and Daxter Trilogy (PS Vita)
25% di sconto
Da €19.99 a €14.99
Jak and Daxter: The Precursor Legacy (PS3)
30% di sconto
Da €9.99 a €6.99
Jak and Daxter: The Precursor Legacy (PS Vita)
53% di sconto
Da €14.99 a €6.99
Jak and Daxter: The Lost Frontier
50% di sconto
Da €7.99 a €3.99
Jak II: Renegade (PS3)
30% di sconto
Da €9.99 a €6.99
Jak II: Renegade (PS Vita)
53% di sconto
Da €14.99 a €6.99
Lego Batman 3: Beyond Gotham
25% di sconto
Da €19.99 a €14.99
Lego Harry Potter: Years 5-7 (PS3)
33% di sconto
Da €14.99 a €9.99
Lego Harry Potter: Years 5-7 (PS Vita)
25% di sconto
Da €19.99 a €14.99
Lego Marvel Super Heroes (PS3 and PS Vita)
25% di sconto
Da €19.99 a €14.99
Lego Ninjago: Shadow of Ronin
25% di sconto
Da €19.99 a €14.99
Lego The Hobbit (PS3)
35% di sconto
Da €19.99 a €12.99
Lego The Hobbit (PS Vita)
25% di sconto
Da €19.99 a €14.99
Lego The Lord of the Rings (PS3)
50% di sconto
Da €19.99 a €9.99
Lego The Hobbit (PS Vita)
25% di sconto
Da €19.99 a €14.99
Looney Tunes Galactic Sports
40% di sconto
Da €24.99 a €19.99
Lost Planet 3
62% di sconto
Da €12.99 a €4.99
Monster Monpiece
62% di sconto
Da €29.99 a €11.99
MotorStorm Apocalypse
53% di sconto
Da €14.99 a €6.99
MotorStorm RC (PS3 and PS Vita)
53% di sconto
Da €5.99 a €2.99
MotorStorm RC Complete Edition (PS3 and PS Vita)
53% di sconto
Da €8.99 a €4.99
MotorStorm Arctic Edge
63% di sconto
Da €7.99 a €2.99
Murasaki Baby
50% di sconto
Da €9.99 a €4.99
MX vs. ATV: Supercross
50% di sconto
Da €29.99 a €14.99
NBA JAM: On Fire Edition
62% di sconto
Da €12.99 a €4.99
Painkiller – Hell & Damnation
67% di sconto
Da €29.99 a €9.99
Prince of Persia
50% di sconto
Da €9.99 a €4.99
Prince of Persia The Forgotten Sands
50% di sconto
Da €9.99 a €4.99
Prince of Persia Classic
50% di sconto
Da €9.99 a €4.99
Prince of Persia: The Sands of Time
50% di sconto
Da €9.99 a €4.99
Prince of Persia: The Two Thrones
50% di sconto
Da €9.99 a €4.99
Prince of Persia: Warrior Within
50% di sconto
Da €9.99 a €4.99
Prince of Persia Trilogy
33% di sconto
Da €14.99 a €9.99
Prototype
67% di sconto
Da €29.99 a €9.99
Prototype 2 Gold Edition
70% di sconto
Da €49.99 a €14.99
Puppeteer- 53% di sconto
Da €14.99 a €6.99
Ratchet & Clank (PS3 and PS Vita)
30% di sconto
Da €9.99 a €6.99
Ratchet & Clank 2 (PS3 and PS Vita)
30% di sconto
Da €9.99 a €6.99
Ratchet & Clank 3 (PS3 and PS Vita)
30% di sconto
Da €9.99 a €6.99
Ratchet & Clank Trilogy (PS3 and PS Vita)
40% di sconto
Da €24.99 a €14.99
Ratchet & Clank: A Crack In Time
47% di sconto
Da €14.99 a €7.99
Ratchet & Clank: All 4 One
47% di sconto
Da €14.99 a €7.99
Ratchet & Clank: Nexus
47% di sconto
Da €14.99 a €7.99
Ratchet & Clank: QForce (PS3 and PS Vita)
47% di sconto
Da €14.99 a €7.99
Ratchet & Clank: Quest for Booty
47% di sconto
Da €9.99 a €4.99
Ratchet & Clank: Tools of Destruction
53% di sconto
Da €14.99 a €6.99
Ratchet and Clank: Size Matters
63% di sconto
Da €7.99 a €2.99
Ratchet: Gladiator
47% di sconto
Da €14.99 a €7.99
Red Faction Armageddon
60% di sconto
Da €19.99 a €7.99
Red Faction: Guerrilla
60% di sconto
Da €19.99 a €7.99
Red Faction: Battlegrounds
20% di sconto
Da €9.99 a €7.99
Remember Me
67% di sconto
Da €14.99 a €4.99
Resistance: Retribution
63% di sconto
Da €7.99 a €2.99
Ridge Racer
75% di sconto
Da €19.99 a €4.99
Ridge Racer – Ultimate Edition
68% di sconto
Da €24.99 a €7.99
Sly 2: Band of Thieves (PS3 and PS Vita)
30% di sconto
Da €9.99 a €6.99
Sly 3: Honour Among Thieves (PS3 and PS Vita)
30% di sconto
Da €9.99 a €6.99
Sly Cooper: Thieves in Time (PS3 and PS Vita)
47% di sconto
Da €14.99 a €7.99
Sly Raccoon (PS3 and PS Vita)
30% di sconto
Da €9.99 a €6.99
Sly Trilogy (PS3 and PS Vita)
40% di sconto
Da €24.99 a €14.99
SpongeBob SquarePants: Plankton's Robotic Revenge
68% di sconto
Da €39.99 a €12.99
Street Fighter IV Ultra
53% di sconto
Da €14.99 a €6.99
Syberia
53% di sconto
Da €14.99 a €6.99
Syberia 2
53% di sconto
Da €14.99 a €6.99
Syberia Collection
57% di sconto
Da €29.99 a €12.99
The Amazing Spider-Man 2 Gold Edition
70% di sconto
Da €49.99 a €14.99
The Amazing Spider-Man Gold Edition
74% di sconto
Da €49.99 a €12.99
The LEGO Movie Videogame (PS3)
35% di sconto
Da €19.99 a €12.99
The LEGO Movie Videogame (PS Vita)
25% di sconto
Da €19.99 a €14.99
The Muppets Movie Adventures
48% di sconto
Da €24.99 a €12.99
The Raven – Legacy of a Master Thief
77% di sconto
Da €29.99 a €6.99
Tom Clancy's Splinter Cell Chaos Theory HD
50% di sconto
Da €9.99 a €4.99
Tom Clancy's Splinter Cell Pandora Tomorrow HD
50% di sconto
Da €9.99 a €4.99
Tom Clancy's Splinter Cell HD
50% di sconto
Da €9.99 a €4.99
Tom Clancy's Splinter Cell Trilogy HD
33% di sconto
Da €14.99 a €9.99
Transformers: Fall of Cybertron Gold Edition
74% di sconto
Da €49.99 a €12.99
Transformers: Rise of the Dark Spark Gold Edition
78% di sconto
Da €59.99 a €12.99
Ultra Street Fighter IV
50% di sconto
Da €19.99 a €9.99
Uncharted: Fight for Fortune
50% di sconto
Da €3.99 a €1.99
Uncharted: Fight for Fortune Complete Edition
60% di sconto
Da €4.99 a €1.99
Undead Knights
33% di sconto
Da €14.99 a €9.99
Warriors: Legends of Troy
50% di sconto
Da €19.99 a €9.99