Cadaveri di console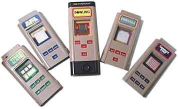 The Top Ten Handhelds that Never Made It : le console portatili che non ce l'hanno fatta.
La lista di Gamespy é interessante, soprattutto perché compaiono al suo interno robe decisamente vecchiotte, di cui non avevo mai sentito parlare.

Ma adesso non riesco a fare a meno di pensare che se possedessi un Microvision*, la mia vita sarebbe migliore.
[via Joystiq]
*cioé dai, sul serio. Non é magnifico?