Chiaki Kuriyama: da Kill Bill a Yakuza 5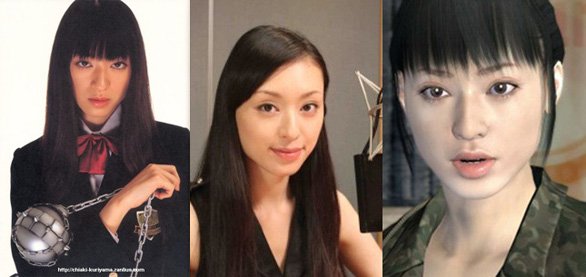 Chiaki Kuriyama è un nome che probabilmente non vi dirà niente, ma forse vi ricorderete la sua interpretazione in Battle Royale e, sicuramente, nel tarantiniano capolavoro Kill Bill vol. 1, dove vestiva i panni della terribile ragazzina-killer Gogo Yubari. Sega ha ufficializzato che la Kuriyama avrà un ruolo in Yakuza 5: presterà voce e fattezze al personaggio Misuzu Asaki.
Nella foto comparativa che abbiamo confezionato per voi la potete vedere rispettivamente come Gogo Yubari, in cabina di doppiaggio e in versione digitale su Yakuza. Niente male, no?
Yakuza 5, il cui nome originale è Ryu ga Gotoku: Of the End, è stato presentato ieri alla stampa, e sarà protagonista del prossimo Tokyo Game Show.
via | IGN