Prince of Persia e Mortal Kombat: collection in HD in arrivo?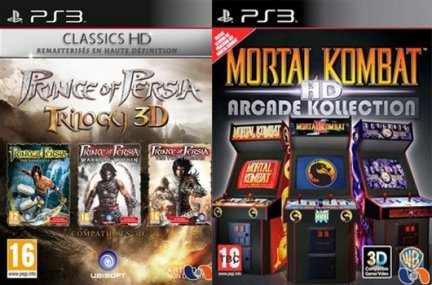 Il sito francese Jeux Video ha pubblicato quelle che, a quanto pare, dovrebbero essere le copertine di Prince of Persia Trilogy e di Mortal Kombat Kollection.
Dalla stessa fonte arrivano anche notizie relative a Splinter Cell Trilogy, Rayman Trilogy e Tom Clancy's Trilogy (Ghost Recon, Splinter Cell e Rainbow Six), tutti per PlayStation 3. Nessuno dei titoli in questione è stato annunciato ufficialmente.
Secondo il sito Mortal Kombat uscirà il 18 Novembre, mentre il resto sarebbe previsto per il 4 dello stesso mese. La mancanza di idee sta spingendo a ripubblicare le vecchie glorie in HD? Che ne pensate?