Halo: Reach - dettagli sulla prossima patch e nuove immagini sui Grunt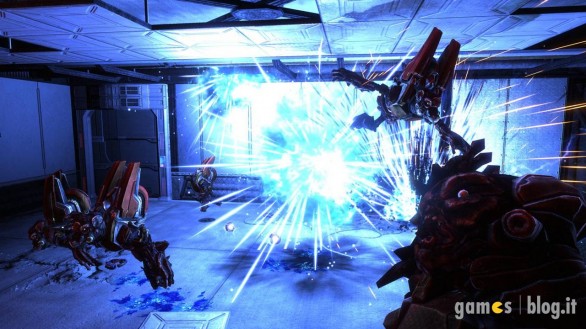 Oltre alle succulente indiscrezioni sullo sviluppo di uno o più contenuti aggiuntivi da pubblicare a breve, nell'ultimo appuntamento settimanale con i loro appassionati i ragazzi di Bungie hanno diffuso la lista degli aggiornamenti che verranno apportati al già magnifico impianto multigiocatore di Halo: Reach a partire da questo ottobre.
Tra le novità più importanti, citiamo l'introduzione della Playlist per le partite SWAT e del Matchmaking per tutti coloro che vorranno giocare la Campagna principale in cooperativa, il ribilanciamento del Team Slayer ed il conseguente accantonamento delle partite Classic Slayer, oltre naturalmente all'introduzione di nuove modalità competitive come King of the Hill, Rocket Race o Juggernaut.
Già che ci siamo, approfittiamo dell'occasione per proporvi le immagini più divertenti ed evocative sui Grunt realizzate dagli utenti attraverso il potentissimo strumento di video editing di Halo: Reach e pubblicate di conseguenza sul sito ufficiale di Bungie. Tutto questo, come di consueto dopo il salto.
Halo: Reach - immagini sui Grunt
Halo: Reach - October Playlist update
Playlist Changes
* SWAT Playlist added (SWAT removed from Big Team Battle and Team Slayer)
* Campaign Matchmaking (live on 10/15 – You will be required to have earned the Grade "Corporal" to enter this Playlist)
* Team Slayer rebalanced to highlight default Slayer game variants and include new offerings
* Classic Slayer removed
* Removed "Pro" game variants from the Arena Playlist
* Removed Boardwalk from Arena Team Doubles Playlist
* Added "Return to Battlefield" volume to Space on Zealot in the Arena Playlist
Game Variants Additions
* King of the Hill (multiple Playlists, including Arena*)
* Rocket Race
* Juggernaut (Rumble Pit Playlist)
* *King of the Hill not included in Arena
General Housekeeping
* Sudden Death will be added to all Assault game variants, including Invasion
* Team Objective will now feature the map Powerhouse
* Replacing Drop Shield with Evade for King of the Hill, Territories, and Oddball
* Replacing Hologram with Evade in Oddball, Capture the Flag, Assault, and Stockpile
* Replacing the Scorpion on Hemorrhage with Wraiths (Hemorrhage Heavies variant, TBD)