Star Wars: The Old Republic - la classe "Imperial Agent" filmata e fotografata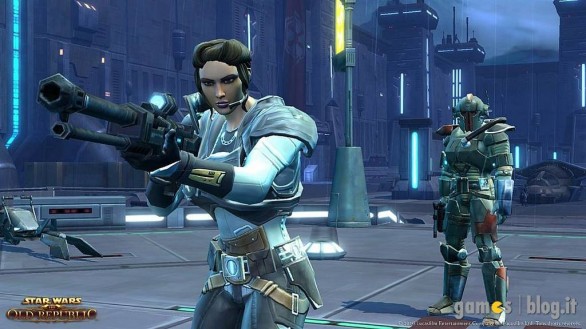 Ad un mese circa di distanza dall'appassionante diario di sviluppo sull'eterno dualismo tra il Lato Chiaro e il Lato Oscuro della Forza che permea da sempre l'universo fantascientifico di Guerre Stellari, i ragazzi di LucasArts e BioWare tornano ad aggiornare il sito ufficiale di Star Wars: The Old Republic illustrandoci in immagini e video la classe Imperial Agent.
Come potete facilmente ammirare nella foto d'inizio articolo e nel restante materiale multimediale che v'attende dopo la pausa, gli appartenenti alla classe Imperial Agent hanno un'innata predisposizione all'ordine e sono dei formidabili combattenti dalle lunghissime distanze, merito naturalmente dell'addestramento intensivo con il fucile di precisione cui vengono sottoposte le reclute sin dalla tenera età.
Star Wars: The Old Republic sarà disponibile su PC per la primavera del 2011.
Star Wars: The Old Republic - galleria immagini