Company of Heroes 2: SEGA annuncia la versione stand-alone The Western Front Armies
Lo strategico in tempo reale di Relic Entertainment si espande con una versione a se stante dedicata al multiplayer
Il successo commerciale di Company of Heroes 2 e delle relative espansioni hanno spinto i vertici di SEGA e degli studi canadesi di Relic Entertainment a dare forma al progetto di The Western Front Armies, una versione stand-alone tratta dalla modalità multiplayer e dalle sfide schermaglia del loro famoso strategico in tempo reale.
Come suggerito dal titolo stesso scelto dai Relic, il titolo in questione si allontanerà dalle feroci battaglie combattute da nazisti e sovietici sul fronte orientale della Seconda Guerra Mondiale per ritornare allo scenario bellico dell'Europa occidentale attraverso una fedele ricostruzione dei velivoli, delle unità di fanteria e dei carri armati dell'esercito degli Stati Uniti e dell'Oberkommando tedesco. Entrambe le fazioni vanteranno un nuovo sistema di progressione che si premurerà di arricchire l'esperienza di gioco includendo contenuti seguendo in maniera progressiva le promozioni guadagnate dagli utenti sui campi di battaglia virtuali.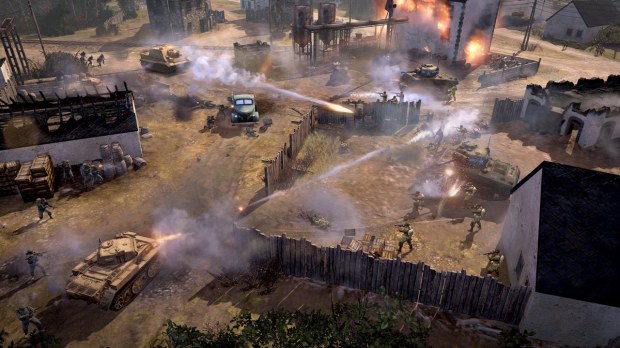 All'interno del pacchetto troveranno spazio tutte e 31 le mappe della modalità multiplayer del titolo originario: gli sviluppatori, inoltre, garantiscono il supporto pieno e nativo alle oltre 1000 mappe create dagli utenti e condivise in questi mesi su Steam Workshop.
Company of Heroes 2: The Western Front Armies sarà disponibile nel mese di giugno al prezzo di 19,99 dollari nella sua versione comprensiva di entrambe le fazioni e a 12,99 dollari in quella "budget" legata solo ad una delle fazioni proposte.