Dark Souls II: The Lost Crowns Trilogy - immagini, video e primi dettagli
Il viaggio dell'eroe senza nome di Dark Souls II riprende con una nuova, pericolosa avventura in forma episodica
Con la tranquillità garantitagli dal muro assordante di rumor eretto in queste settimane da coloro che li vogliono al lavoro su un certo Project Beast per PS4, gli sviluppatori nipponici di From Software sorprendono gli utenti di Dark Souls II annunciando il terzetto di espansioni di The Lost Crowns.
Le avventure che ci attendono tra le lande infernali di The Lost Crowns andando a sbloccare un nuovo mondo di morte e di stregoneria all'ombra delle rovine del regno di Drangleic assumeranno la forma episodica di una triplice missione suicida da far compiere all'impavido alter-ego senza nome della storia originaria.
Ecco le primissime immagini sulle ambientazioni di The Lost Crowns, l'avventura inedita di Dark Souls II che verrà rilasciata in forma episodica nei prossimi mesi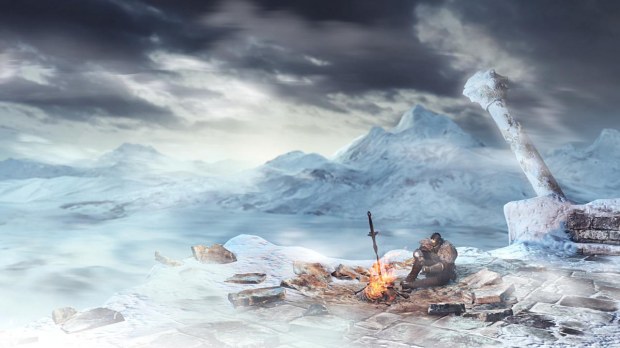 La prima avventura di The Lost Crowns si intitolerà Crow of the Sunken King, sarà disponibile a partire dal 22 luglio e ci porterà a esplorare i templi sommersi di un'antichissima città-stato costellata di trappole e popolata da esseri che i From Software stessi inseriscono nel pantheon dei mostri più arcigni mai proposti all'utenza di Dark Souls e Dark Souls II.
Il secondo DLC, Crown of the Old Iron King, arriverà invece il 26 agosto e sarà ambientato in un'area dominata dalla magia oscura scaturita da una gigantesca torre popolata di demoni e potenti stregoni. Il terzo e ultimo tassello dell'espansione episodica di The Lost Crowns, Crown of the Ivory King, sarà disponibile a partire dal 23 settembre e si premurerà di collegare il "network di falò" dell'eroe a una zona montana contraddistinta da un freddo glaciale, da una scarsissima visibilità e da un'altrettanto scarsa possibilità, per l'utente, di sopravvivere all'esercito di fantasmi e di diavoli a difesa dell'ultima corona di Re Vendrick.
Non dimenticate di scaricare la Blogo App, per essere sempre aggiornati sui nostri contenuti. E' disponibile su App Store e su Google Play ed è gratuita.