The Evil Within: nuovo video "Fino all'ultimo proiettile"
I Tango Gameworks ci offrono delle dritte sulle cose da fare per sopravvivere ai mostri del prossimo incubo horror di Shinji Mikami
Sebastian Castellanos reindossa il suo trench "alla Tenente Colombo" e ci suggerisce alcune strategie per aumentare le nostre possibilità di sopravvivenza nella sanguinaria dimensione di gioco di The Evil Within, l'ultimo horror firmato dai Tango Gameworks di Shinji Mikami.
Completamente doppiato in italiano, il trailer "Fino all'ultimo proiettile" che inaugura la serie di video-diari che ci accompagnerà fino al lancio del titolo spiega ai giocatori come ottimizzare le esigue risorse a nostra disposizione lungo tutta la campagna principale, gestendo in maniera parsimoniosa le munizioni e capire per tempo quando bisognerà darsela a gambe levate per non finire in braccio a mostri e creature d'ogni sorta.
Guarda le ultime immagini di The Evl Within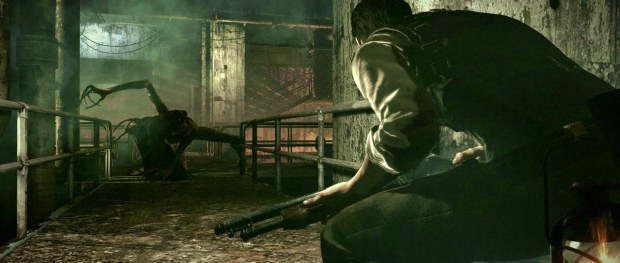 Leggi anche - The Evil Within: svelati i requisiti raccomandati per PC
Per aiutare Mikami a fermare definitivamente la deriva action degli ultimi, contraddittori capitoli della serie di Resident Evil, i Tango Gameworks proveranno così ad assecondare i desideri di papà Shinji facendo gravitare l'esperienza di gioco attorno al "pathos scenico" e alla perenne tensione causata dall'impossibilità, per Sebastian e per chi lo impersonerà, di attingere a un sufficiente quantitativo di proiettili, di armi da fuoco, di lame e di oggetti curativi.
A questo punto non ci rimane che chiudere il pezzo e lasciarvi all'interessante trailer dimostrativo che campeggia ad inizio articolo, ma prima cogliamo l'occasione per ricordarvi che The Evil Within sarà disponibile a partire dal 14 ottobre su PC, PlayStation 3, Xbox 360, PlayStation 4 e Xbox One.
Approfondisci - The Evil Within: tre nuovi dietro le quinte col creatore Shinji Mikami