Classifiche di vendita settimanali in Italia dal 7 al 13 febbraio 2010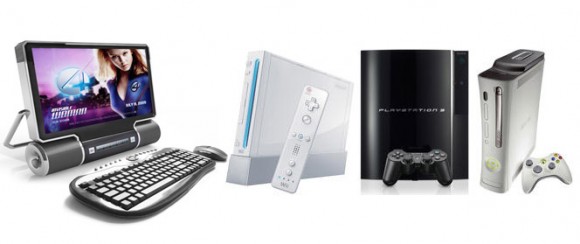 Ecco di nuovo il consueto appuntamento con le classifiche di vendita italiane settimanali condotte da GfK per conto di AESVI. Mario Sports Mix raggiunge la vetta della classifica generale console mentre la carta prepagata di World of Warcraft continua a dominare su PC (che noia).
Top 10 Console
1 MARIO SPORTS MIX WII NINTENDO
2 JUST DANCE 2 WII UBISOFT
3 ART ACADEMY DS NINTENDO
4 WII FIT PLUS + BALANCE BOARD WII NINTENDO
5 WII PARTY WII NINTENDO
6 TEST DRIVE UNLIMITED 2 X-BOX 360 ATARI
7 TEST DRIVE UNLIMITED 2 PS3 ATARI
8 GRAN TURISMO 5 PS3 SONY
9 NEW SUPER MARIO BROS WII NINTENDO
10 FIFA 11 PS3 ELECTRONIC ARTS

Top 10 PC
1 WORLD OF WARCRAFT PRE PAID CARD 2 MESI PC ACTIVISION BLIZZARD
2 TEST DRIVE UNLIMITED 2 PC ATARI
3 THE SIMS 3 OUTDOOR LIVING STUFF PC ELECTRONIC ARTS
4 FOOTBALL MANAGER 2011 PC SEGA
5 THE SIMS 3 PC ELECTRONIC ARTS
6 CALL OF DUTY BLACK OPS PC ACTIVISION BLIZZARD
7 ASSASSIN'S CREED II PC UBISOFT
8 PRO EVOLUTION SOCCER 2011 PC KONAMI
9 WORLD OF WARCRAFT CATACLYSM PC ACTIVISION BLIZZARD
10 FIFA 11 PC ELECTRONIC ARTS

Continua dopo la pausa con le Top 10 per piattaforma.
Top 10 DS
1 ART ACADEMY NINTENDO
2 INAZUMA ELEVEN NINTENDO
3 NEW SUPER MARIO BROS NINTENDO
4 MARIO VS DONKEY KONG PARAPIGLIA A MINILAND NINTENDO
5 MARIO KART NINTENDO
6 PROFESSOR LAYTON E IL FUTURO PERDUTO NINTENDO
7 POKEMON RANGER TRACCE DI LUCE NINTENDO
8 POKEMON ORO HEARTGOLD + POKEWALKER NINTENDO
9 POKEMON ARGENTO SOULSILVER + POKEWALKER NINTENDO
10 POKEMON VERSIONE PLATINO NINTENDO

Top 10 PS2
1 PRO EVOLUTION SOCCER 2011 KONAMI
2 FIFA 11 ELECTRONIC ARTS
3 BEN 10 ULTIMATE ALIEN COSMIC DESTRUCTION D3
4 BLACK ELECTRONIC ARTS
5 NEED FOR SPEED MOST WANTED ELECTRONIC ARTS
6 NEED FOR SPEED UNDERCOVER ELECTRONIC ARTS
7 NEED FOR SPEED CARBON ELECTRONIC ARTS
8 GRAND THEFT AUTO SAN ANDREAS PLATINUM ROCKSTAR GAMES
9 IL PADRINO ELECTRONIC ARTS
10 MEDAL OF HONOR VANGUARD ELECTRONIC ARTS

Top 10 PS3
1 TEST DRIVE UNLIMITED 2 ATARI
2 GRAN TURISMO 5 SONY
3 FIFA 11 ELECTRONIC ARTS
4 CALL OF DUTY BLACK OPS ACTIVISION BLIZZARD
5 PRO EVOLUTION SOCCER 2011 KONAMI
6 DEAD SPACE 2 LIMITED EDITION ELECTRONIC ARTS
7 SPORTS CHAMPIONS SONY
8 ASSASSIN'S CREED BROTHERHOOD UBISOFT
9 LITTLEBIGPLANET 2 SONY
10 ASSASSIN'S CREED II UBISOFT

Top 10 PSP
1 PRO EVOLUTION SOCCER 2011 KONAMI
2 FIFA 11 ELECTRONIC ARTS
3 BEN 10 ULTIMATE ALIEN COSMIC DESTRUCTION D3
4 INVIZIMALS LE CREATURE OMBRA + CAM SONY
5 GOD OF WAR GHOST OF SPARTA SONY
6 RATCHET & CLANK L'ALTEZZA NON CONTA ESSENTIALS SONY
7 NEED FOR SPEED MOST WANTED PLATINUM ELECTRONIC ARTS
8 MEDIEVIL RESURRECTION ESSENTIALS SONY
9 NEED FOR SPEED CARBON OWN THE CITY PLATINUM ELECTRONIC ARTS
10 PRINCE OF PERSIA LE SABBIE DIMENTICATE UBISOFT

Top 10 WII
1 MARIO SPORTS MIX NINTENDO
2 JUST DANCE 2 UBISOFT
3 WII FIT PLUS + BALANCE BOARD NINTENDO
4 WII PARTY NINTENDO
5 NEW SUPER MARIO BROS NINTENDO
6 DONKEY KONG COUNTRY RETURNS NINTENDO
7 SUPER MARIO GALAXY 2 NINTENDO
8 MICHAEL JACKSON THE EXPERIENCE UBISOFT
9 TOY STORY MANIA DISNEY INTERACTIVE STUDIOS
10 FIFA 11 ELECTRONIC ARTS

Top 10 X-BOX 360
1 TEST DRIVE UNLIMITED 2 ATARI
2 KINECT ADVENTURES + KINECT MICROSOFT
3 FIFA 11 ELECTRONIC ARTS
4 KINECT SPORTS MICROSOFT
5 CALL OF DUTY BLACK OPS ACTIVISION BLIZZARD
6 DEAD SPACE 2 ELECTRONIC ARTS
7 ASSASSIN'S CREED BROTHERHOOD UBISOFT
8 YOUR SHAPE FITNESS EVOLVED KINECT UBISOFT
9 PRO EVOLUTION SOCCER 2011 KONAMI
10 KINECTINIMALS MICROSOFT