Toukiden: Kiwami - nuove immagini comparative tra le versioni PS Vita e PS4
Quali saranno le differenze trafiche tra le versioni PS4 e PS Vita dell'ultimo action/RPG del team Omega Force?
I vertici di Koei Tecmo e gli sviluppatori giapponesi del team Omega Force confezionano un nuovo filmato di gioco di Toukiden: Kiwami accompagnato da una serie di screenshot che mettono a diretto confronto le edizioni PS Vita e PS4 del loro prossimo action ruolistico.
In queste immagini, che ritraggono due PNG e alcune delle ambientazioni che andremo a esplorare nel corso dell'avventura, il lavoro di riprogettazione svolto dagli autori di Hyrule Warriors e della saga di Dynasty Warriors per portare la loro ultima creatura action nella ludoteca di PlayStation 4 viene testimoniato da un comparto grafico più curato, con texture in alta definizione, ambientazioni più ricche, animazioni più fluide e un uso intensivo dei filtri grafici e degli effetti particellari.
Guarda le ultime immagini comparative tra le versioni PS4 e PS Vita di Toukiden: Kiwami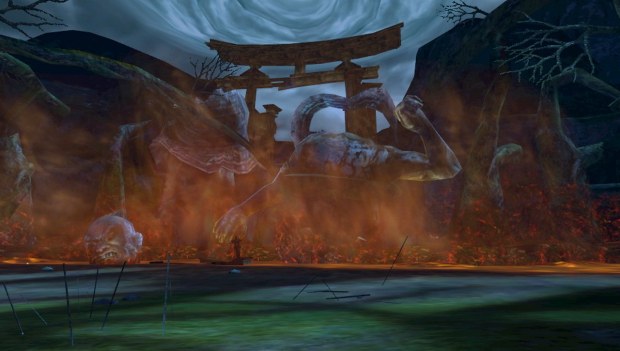 A prescindere dall'edizione scelta, il titolo godrà comunque di un sistema di combattimento adrenalinico e profondo, così come ci viene ampiamente illustrato nell'ultimo gameplay trailer propostoci dagli Omega Force: all'interno di Kiwami, inoltre, troveranno spazio tutti i contenuti di The Age of Demons più una nuova avventura della medesima durata, nella quale sarà possibile utilizzare nuove mosse, affrontare Oni ancora più arcigni, equipaggiare armi rare e intraprendere delle missioni inedite.
Vi lasciamo quindi alle immagini e alle scene di gioco odierne e ricordiamo a chi ci segue che la commercializzazione di Toukiden: Kiwami è prevista per il prossimo 27 marzo, sia nell'edizione originaria rivolta all'utenza di PS Vita che per quella in alta definizione destinata agli appassionati di action/RPG su PlayStation 4.