Borderlands: The Handsome Collection - nuovi screenshot per festeggiare i 12 milioni di copie vendute dalla serie
I ragazzi di Gearbox Software ci preparano all'uscita della Handsome Collection di Borderlands su PS4 e Xbox One dandoci in pasto delle immagini di gioco inedite
I vertici di 2K Games annunciano di aver raggiunto e superato le 12 milioni di copie vendute di videogiochi della serie di Borderlands e celebrano il successo di questa iconica epopea sparatutto con una nuova infornata di screenshot dedicata a Borderlands: The Handsome Collection.
A chi avesse vissuto gli ultimi anni in una caverna di Elpis senza avere nessun contatto con Pandora o con la Terra, ricordiamo brevemente che la nuova collezione realizzata da Gearbox Software e 2K Australia offrirà agli appassionati di sparatutto open world su PS4 e Xbox One gli ultimi due capitoli della saga con un comparto grafico migliorato, dei bonus digitali e tutti i contenuti aggiuntivi e le espansioni dei due titoli, ivi compreso l'ultimo DLC Claptastic Voyage del Pre-Sequel.
Ecco le ultime immagini di gioco di Borderlands: The Handsome Collection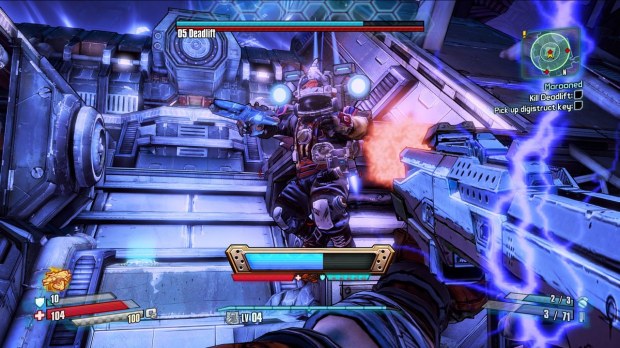 Come spiegato di recente dal presidente e amministratore delegato di Gearbox Software, Randy Pitchford, l'assenza del primo capitolo della serie nella collezione next-gen di Borderlands è dovuta al diverso engine grafico utilizzato per realizzare Borderlands 2 e il Pre-Sequel: il faticoso lavoro di conversione da svolgere per portare l'atto iniziale dei Cacciatori della Cripta sulle nuove piattaforme di Microsoft e Sony, inoltre, non avrebbe consentito agli sviluppatori di integrare il prezioso modulo per il trasferimento dei salvataggi.
A questo punto non ci rimane che lasciarvi alle evocative immagini di gioco che trovate quest'oggi in galleria, non prima però però di ricordare ai nostri prodi lettori che Borderlands: The Handsome Collection sarà disponibile su PlayStation 4 e Xbox One a partire dal 27 marzo sia in edizione digitale che in versione pacchettizzata, in quest'ultimo caso anche nell'edizione per collezionisti con un modellino radiocomandato di quel simpatico ammasso di ferraglia che risponde al nome di Claptrap.
Guarda il trailer di lancio di Borderlands: The Handsome Collection