Guitar Hero Live: svelata una parte della tracklist
Sfogliamo alcune delle tracce che suoneremo sul palco digitale di Guitar Hero Live con la nuova chitarra a sei tasti realizzata da FreeStyle Games e Activision
Dopo averci riproposto la porzione di filmato di presentazione di Guitar Hero Live dedicata alla nuova chitarra a sei tasti, i curatori della pagina Facebook ufficiale di Guitar Hero pubblicano una nuova immagine che mostra una parte del menù di selezione delle tracce che saranno proposte agli aquirenti della versione retail del prossimo videogioco musicale della serie affidato da Activision alle amorevoli cure degli sviluppatori inglesi di FreeStyle Games.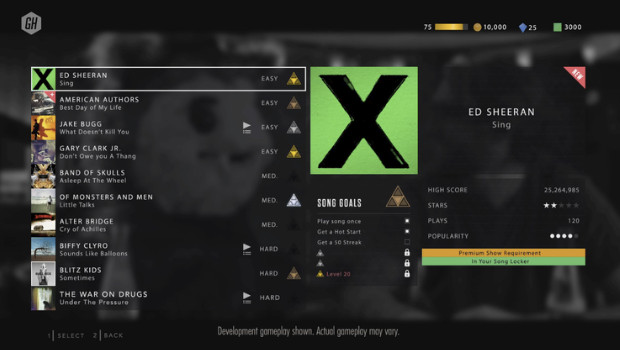 Sing - Ed Sheeran


Best Day of My Life - American Authors


What Doesn't Kill You - Jake Bugg


Don't Owe You a Thang - Gary Clark, Jr.


Asleep at the Wheel - Band of Skulls


Little Talks - Of Monsters and Men


Cry of Achilles - Alter Bridge


Sounds Like Balloons - Biffy Clyro


Sometimes - Blitz Kids


Under the Pressure - The War on Drugs


Guitar Hero Live: galleria immagini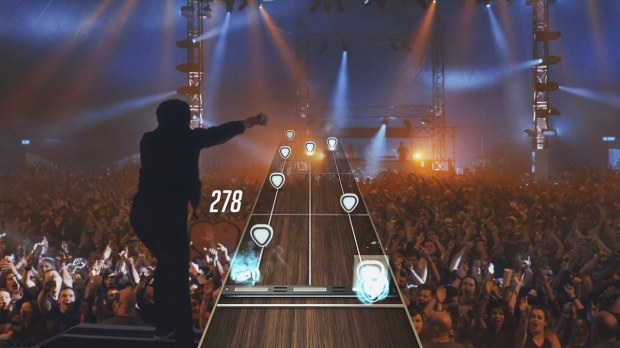 Il design minimalista del menù di selezione delle tracce mostra il livello di difficoltà, la popolarità dei brani tra gli utenti del titolo, le informazioni principali di ogni brano e la relativa copertina del CD/LP (o, in alternativa, dell'album da cui è stato estratto il singolo). Ai dieci brani appena ufficializzati s'aggiungeranno decine di altre canzoni presenti su disco e un numero indefinito di brani (sia gratuiti che a pagamento) hostati sulla piattaforma online di GHTV che verrà aperta in concomitanza con l'uscita del titolo.
La data di lancio di Guitar Hero Live, però, non è stata ancora annunciata: le uniche informazioni offerteci a tal proposito dai FreeStyle Games sono relative alla finestra di commercializzazione indicativa (autunno) e al ventaglio di piattaforme su cui verrà proposto il titolo (PS3, PS4, X360, Xbox One, Wii U e sistemi iOS e Android di ultima generazione).