Wolfenstein: The Old Blood è disponibile da oggi - ecco il trailer di lancio
I nazisti zombie dell'ultimo sparatutto a tinte oscure di MachineGames piovono su PC, PlayStation 4 e Xbox One
Gli sviluppatori di MachineGames e i produttori di Bethesda Softworks festeggiano il lancio dell'edizione digitale di Wolfenstein: The Old Blood con un bel video che fa da prologo alla trama di questa espansione stand-alone di The New Order catapultandoci tra i crucchi non-morti che sorvegliano la Divisione Paranormale dei nazisti del villaggio di Wulfburg, una delle tante ambientazioni che esploreremo nei panni di B.J. Blazkowicz.
Approfittiamo dell'occasione per ricordare a chi si fosse perso i nostri precedenti articoli che la trama di The Old Blood correrà su due binari paralleli e verrà suddivisa in due parti per un totale di otto capitoli, ciascuno con un proprio "carattere" rappresentato da un peculiare sistema di gioco e, appunto, da una diversa scenografia digitale. La prima parte del titolo, Rudi Jäger e la Tana dei Lupi, racconterà lo scontro tra Blazkowicz e il sadico capo delle prigioni del Castello Wolfenstein, dove il nostro integerrimo eroe si recherà per acquisire le coordinate del complesso del generale Deathshead.
Wolfenstein: The Old Blood - galleria immagini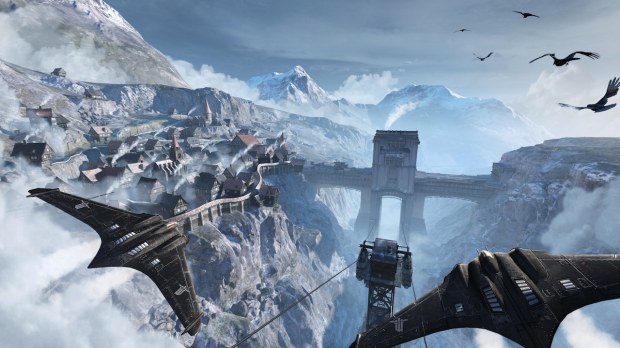 Non meno importante dell'avventura da vivere tra le quattro mura del Castello Wolfenstein sarà poi il secondo e ultimo episodio della storia di The Old Blood, Gli Oscuri Segreti di Helga Von Schabbs, dove avremo il piacere di visitare il villaggio di Wulfburg incrociando le guardie cibernetiche e i soldati zombie al comando di Helga, un folle archeologo intenzionato a riesumare misteriosi manufatti intrisi di un potere antico e oscuro.
Wolfenstein: The Old Blood è disponibile da oggi, 5 maggio, su PC, PlayStation 4 e Xbox One, ma solo nel formato digitale scaricabile su Steam, PSN/SEN e Xbox Games Store al prezzo budget di 19,99€. Per l'edizione retail, infatti, occorrerà attendere sino al prossimo 15 maggio.